Tue 16th 6 pm
Zsolt Keserue HU "Dreams Come True" 24min 00sec 2009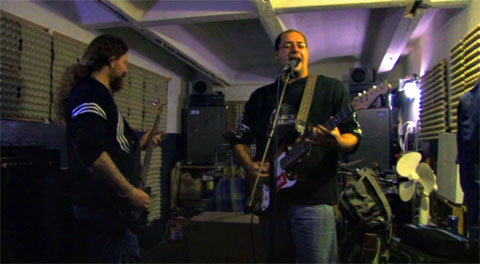 In Dunaújváros, a city inhabited primarily by workers, most forums of culture are practically unknown to the majority of the population. The number of puplic spaces that feel authentic to young people are – similarly to any settlement of this size – meagre. Thus, what is left is playing music together, primarily in a genre wich, once stood for freedom but is, by now, barely definable, wich speaks to "everyone", and seeks directness in its lyrics: rock music.

Only garages have offered a suitable site for rehearsing; it is there that bands gather to make music after working hours. Their attitudes regarding this fact are very varied: merciless self-critique, hope concealed by disillusionment; great and confusing plans can be found in parallel within the same band. There are some for whom garage music is self-actualisation in itself, others hope for large stages and audiences of ten thousand people. Upon taking a closer look at the community, we can also discover an interesting mesh of dynamics: passions, "master-apprentice" relationships, perfectionism, envy – almost everything that would come into play in a "high stake game" milieu. In this particular niche, a strange flavour is added to the mix by the fact that most of the bands play almost only for themselves.

The first interviews were made in 2002 involved 16 bands whose members spoke about their past, their everyday lives, their plans, and their ars poetics. When, in 2008, on the apropos of a garage rock festival, the interviews were continued, only 3 of the 16 bands were still active, and with significant changes as regards band members. The film endeavours to explore the system of relationships within this community, examining the reasons and motivations of those who dedicate their time, energy and considerable sums of money to this particular experiment in self expression which, under the diguise of a hobby, promises the realisation of the rock and roll dream, and which, more aften than not, is doomed to failure.
For more information on the Urban Research program
click here: www.richfilm.de