Meet us at the Contemporary Art Ruhr at Zeche Zollverein,
5 – 7 August, 2022
Directors Lounge, founded and based in Berlin, presents selected positions of contemporary photo and media art. Interdisciplinary works combine sound sculpture, performance and photography (Michael Vorfeld), action and documentation (Ania Rudolph/Rainer Görß) or take place at the intersection of image and film (Telemach Wiesinger). The photographic works are complemented by films and video performances by the artists. Digital art (André Chi Sing Yuen), overpaintings (Visuman) and time-based photo sequences (Klaus W. Eisenlohr) expand the concept of photography.  A decolonization of the gaze and a reflection on one's own history are sought by the works of Julia Murakami and André Werner in their examination of past photographs.
Contemporary Art Ruhr, the Photo / Media Fair
World Cultural Heritage Site Zollverein
Gelsenkirchener Strasse 181, 45309 Essen
Official Opening
Friday, August 5, 8 pm – 10.30 pm
Public fair hours
Saturday, August 6, 11 am – 7 pm
Sunday, August 7, 11 am – 7 pm
Location: www.zollverein.de
info: www.contemporaryartruhr.de
c.a.r. video lounge [Hall 12|

23

] presented by Directors Lounge:
Directors Lounge Special I: "LOGBUCH and SIGNAL"
by Telemach Wiesinger
Telemach Wiesinger is a storyteller – film camera and image projector are his tools. The projection shows scenes as only the cinematic-graphic view opens them: black on white, accompanied by the running noise of the 16 mm projectors.
Logbuch, image sequence, 30 min, silent, 2014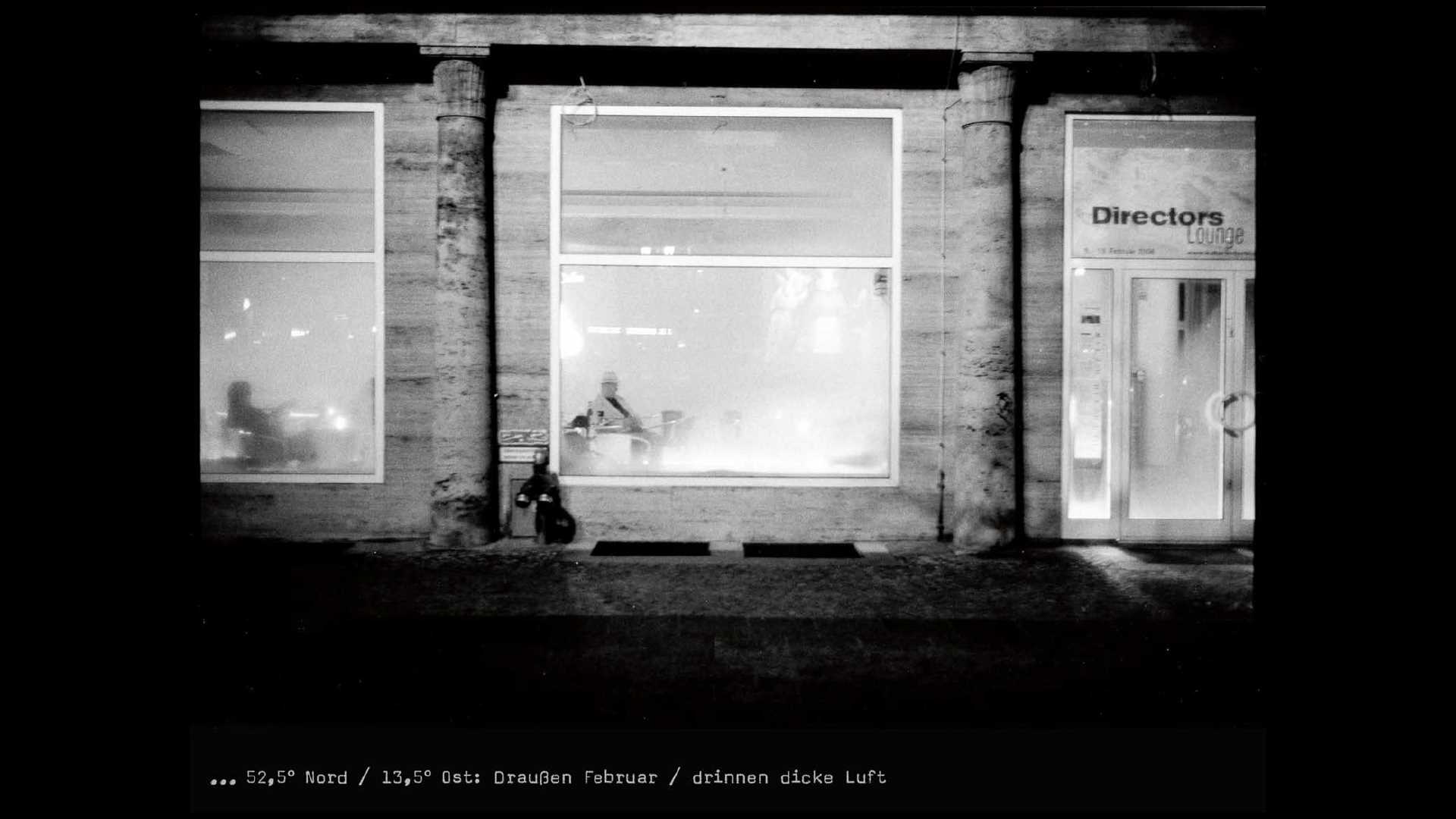 The locations are only approximately localized on the basis of longitude and latitude. Telemach Wiesinger is not concerned with the depiction of a specific place, but rather with a general description of travel perceptions. Telemach Wiesinger's analog photographs pictures follow the thought: "The world is a system of signs" – Have a good trip!
Signal,  9 min 42 s, 2020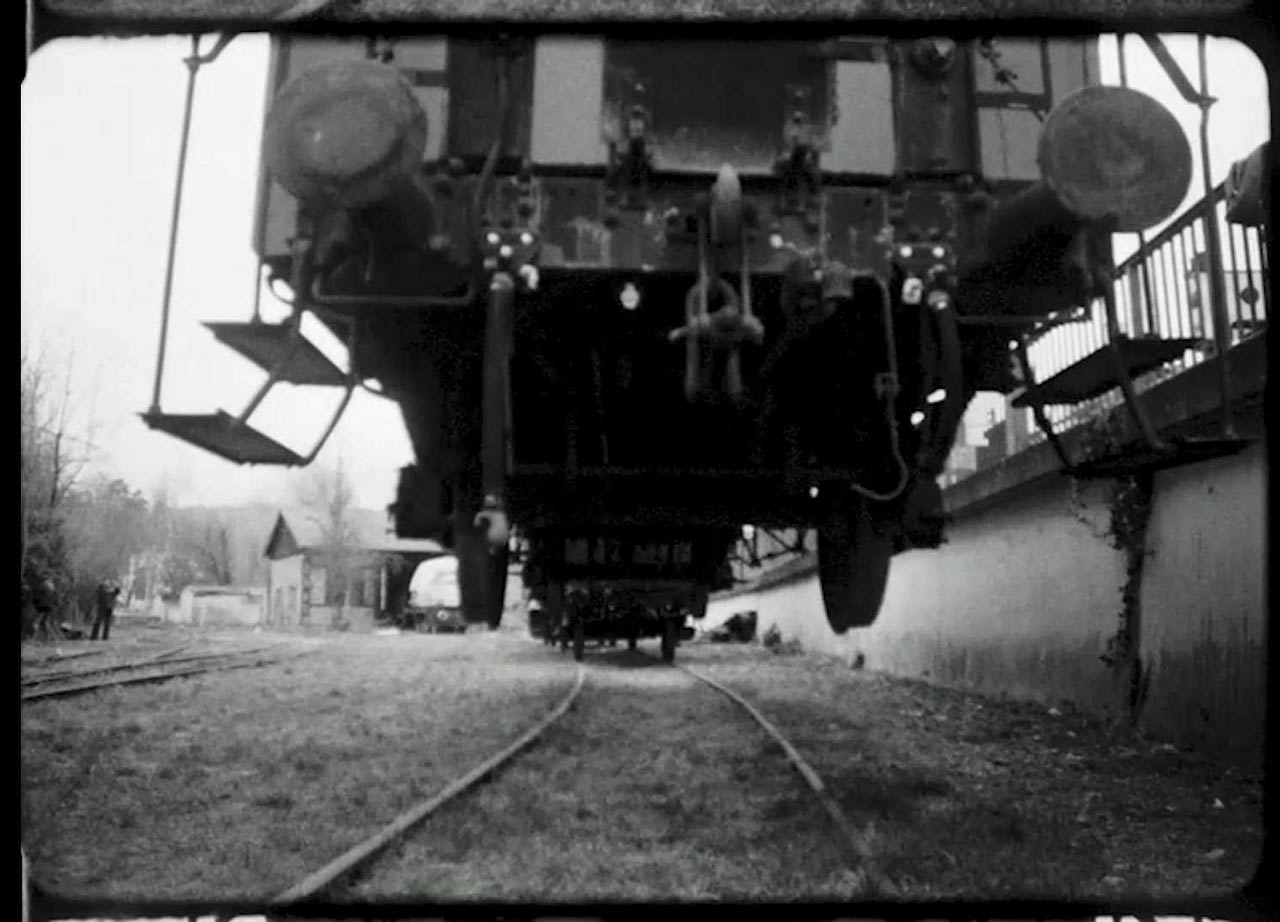 A nightly lake, two resting boats… But who is waving the chessboard pattern of a checkered flag here? To whom do the moving signal arrows point the way? Telemach Wiesinger has composed a film poem from everyday scenarios using analog craftsmanship, the humor of which opens up his own stories. The subjects and objects visible to the human eye are infinite, but often inflationary. The visible world also includes the surreal, which rarely shows itself, which can be discovered in some places and brought to light from time to time. For example in Wiesinger's film poems.
Thomas Spiegelmann
Directors Lounge Special II: "SILHOUETTE"
by Michael Vorfeld

The interplay of light, sound, body and space creates a film with surprising perceptual phenomena, full of atmospheric density and sensual intensity.
Michael Vorfeld (Berlin), media artist and musician, creates performances and installations with sound and light, works with photography and film. He is active in the fields of experimental music, improvised music and sound art. Michael Vorfeld plays percussion and self-designed string instruments and realizes electro-acoustic sound works. He is a member of various formations and cooperates with artists from different fields. His diverse activities include extensive concert, performance and exhibition work in Europe, the USA, Asia and Australia.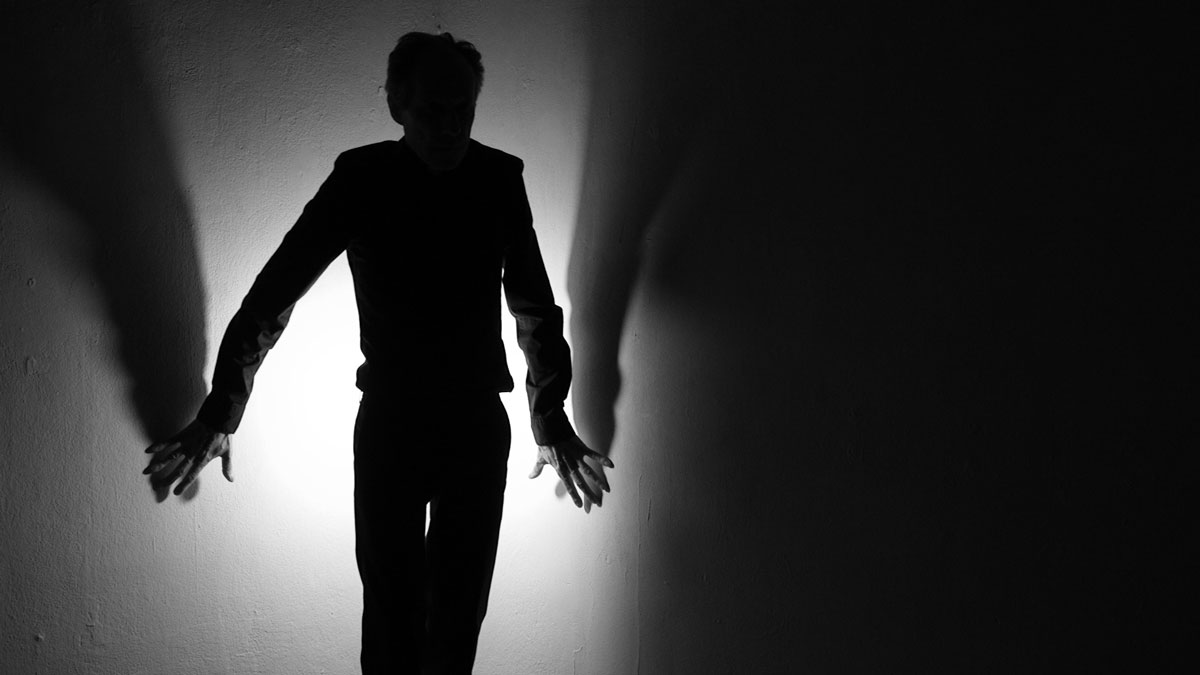 Directors Lounge Special III: "DNA, Die Neuen Alten"
Selected videoperformances and interventions on social media by Ania Rudolph & Rainer Görß
Es ist Krieg | It's war, 2min 15s, 2022
a generational project using sound quotes from the Ukraine war & gun advertising & four liberated trees from a discount store
Z malen | Z painting 1min 10s, 2022
Shade – Lawn – Vacuuming  |  Schatten – Rasen – saugen,  50s, 2022
Part of DNA, Die Neuen Alten bei TikTok ( Rainer Goerss | Ania Rudolph)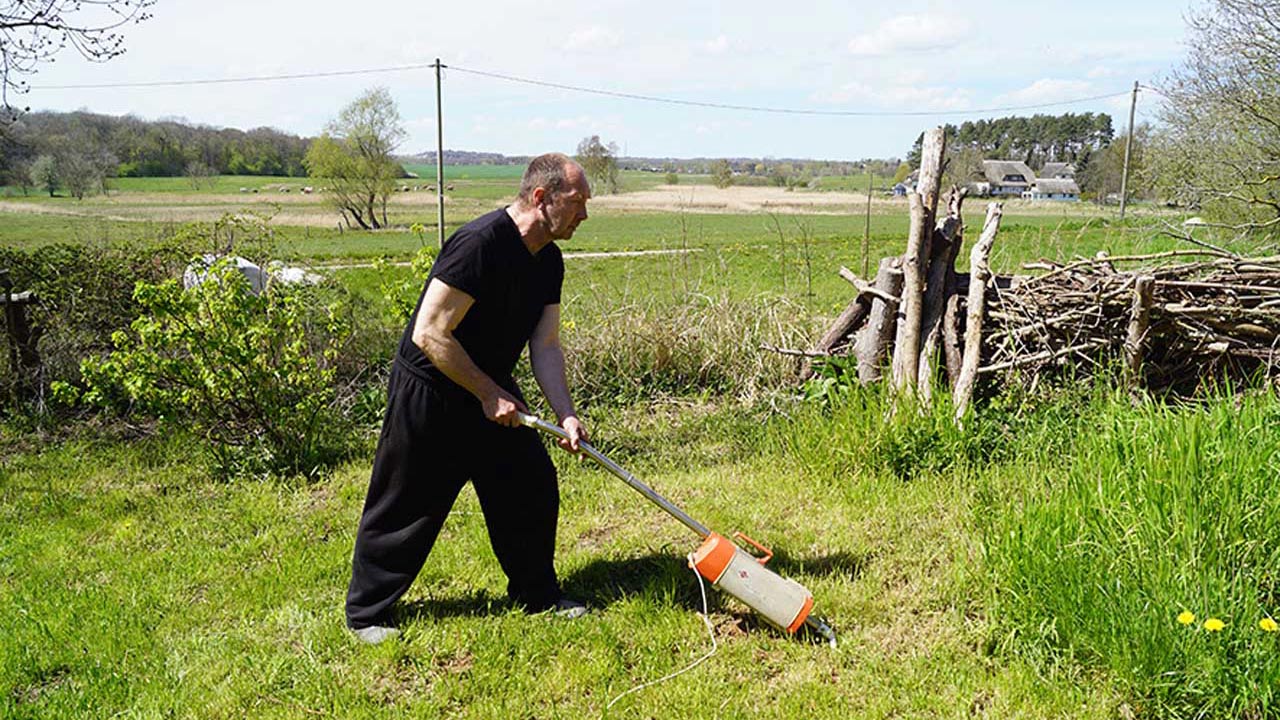 Directors Lounge Special IV: "Selected by Klaus W. Eisenlohr"
Quixote | Markus Soukup  8min 40s, 2019
The Becoming | Melissa Faivre  5min 10s, 2020
Sounds of Kyrgyz Nomads | Verena Kyselka 17min 28s, 2021
Batagur Baska – by Guido Möbius | Bernd Lützeler  7min, 2016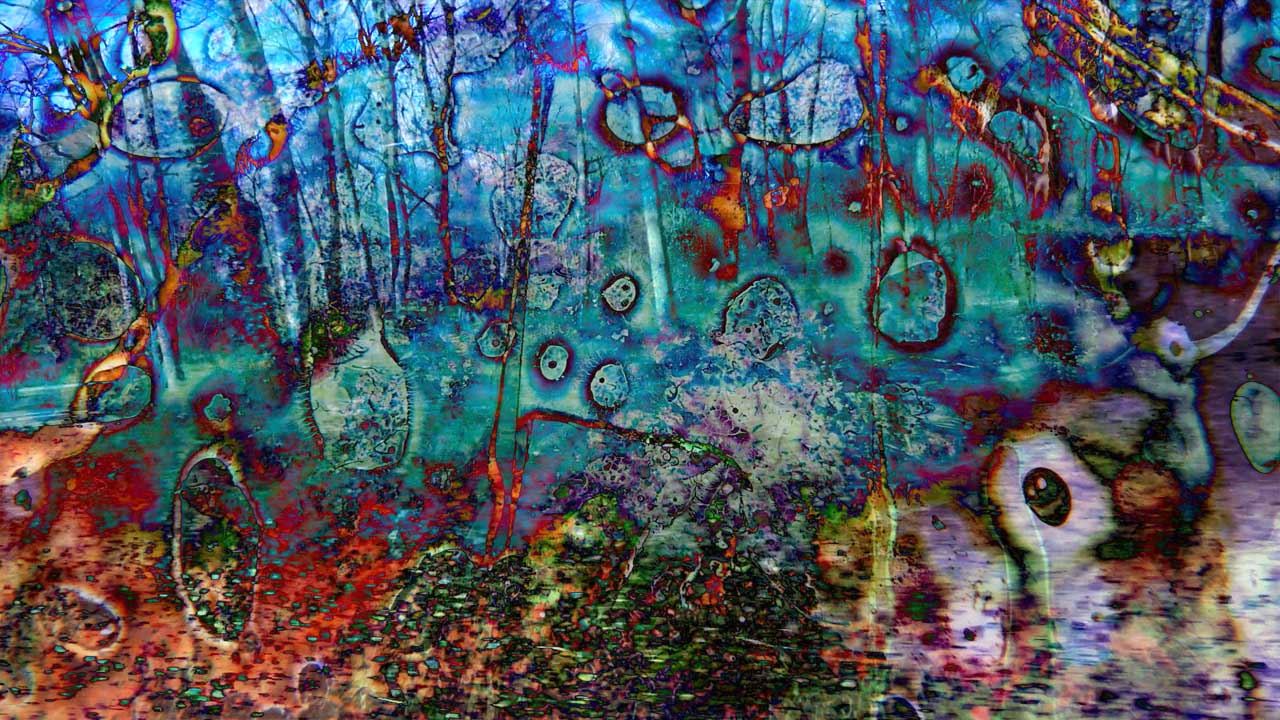 Download the complete program: CAR Playlist-August-22
Booth, [Hall 12 | 21 + 30 ]
with works by Rainer Görß, Julia Murakami, Visuman, Michael Vorfeld, André Werner, Telemach Wiesinger, Klaus W. Eisenlohr, André Chi Sing Yuen.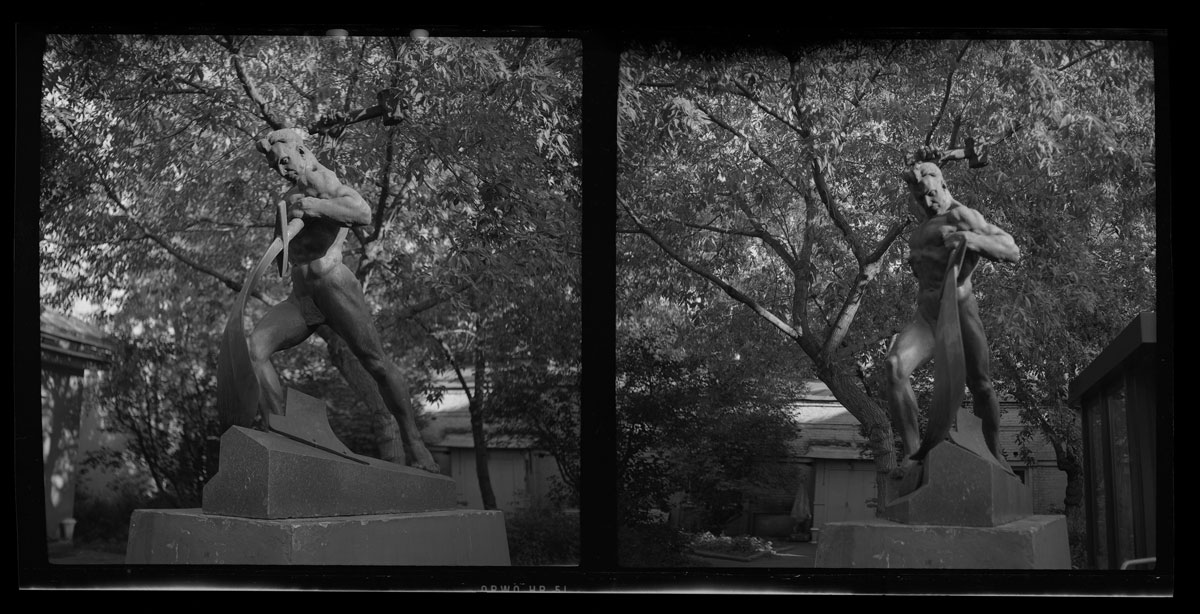 RAINER GOERSS
Rainer Görß born 1960, works since the 1980s in the dissident scene of East Germany. Studied at the Berlin/Dresden Academy of Art. Multimedia works as artistic research/ concept. KIK (kritische Industriekultur)- critical industrial culture, between ideology recycling and art of sustainability. Art in the public space (e.g. Berlin Jewish memorial Hausvogteiplatz, Stasi museum guidance system "Informant"),Photo video interventions together with Ania Rudolph.
His art works are in museums & private collections including but not limited to Berlinische Galerie, Gal. Neue Meister Albertinum Dresden, Getty Museum LA. Individual & group exhibitions, EU and internationally since 1985. He lives and works in Berlin, Brandenburg and Rügen. www.untergrundmuseum.de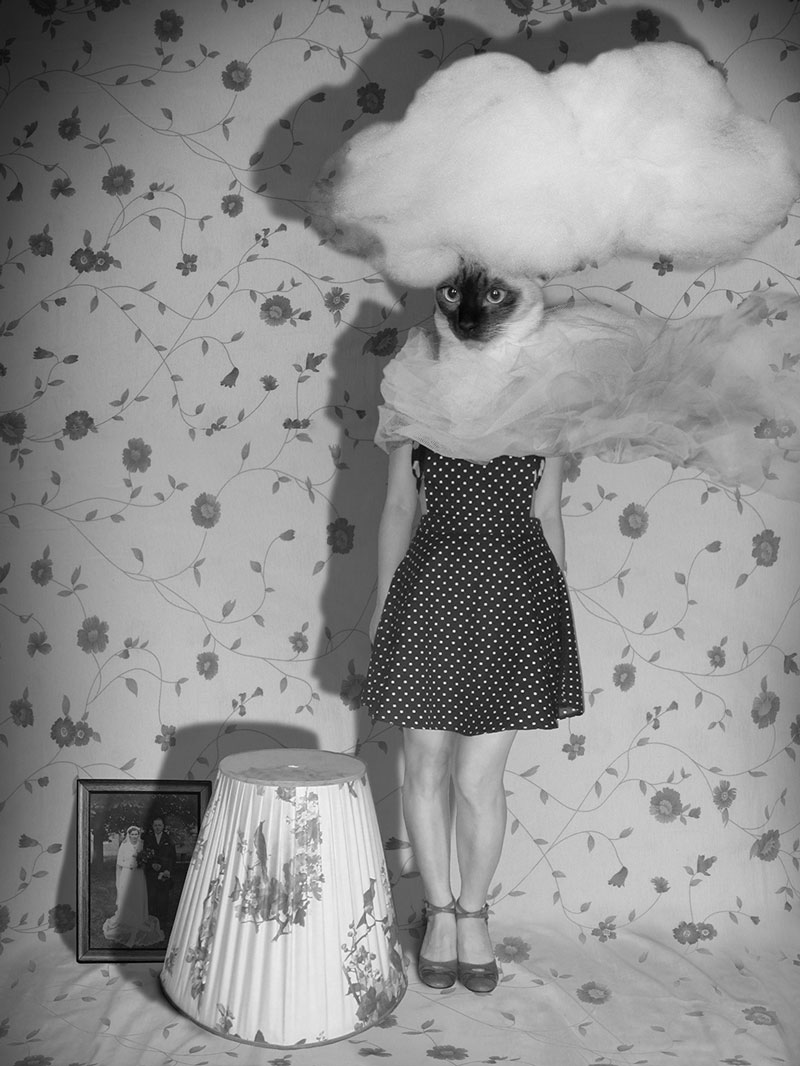 JULIA MURAKAMI
Julia Murakami's work series can be seen as a visual exploration into a lost and forgotten time. Seemingly frozen in a single moment either in stage-like settings or as a cosmos of odd creatures, the works showcase voyeuristic insights into a world anchored in the psyche. Hidden references among the works are playfully intertwined "cameo appearances" of the protagonists, which combine Murakami's works into a coherent oeuvre.
In her photographs she portraits herself as the denizens of this forgotten place – whimsical hybrid creatures with animal heads and human bodies – in an intimate way. Here a reference to the Greek myths, there the search for the bygone: memory, longing, dream, loss. With her characteristic subtlety, Julia Murakami confronts the phantasmagoric with the real world with a charming implicitness and thus creates visual flashbacks which simultaneously evoke alienation and familiarity. The selection of works presented at the contemporary art ruhr, explores the dreamlike status of a subconscious memory. www.juliamurakami.com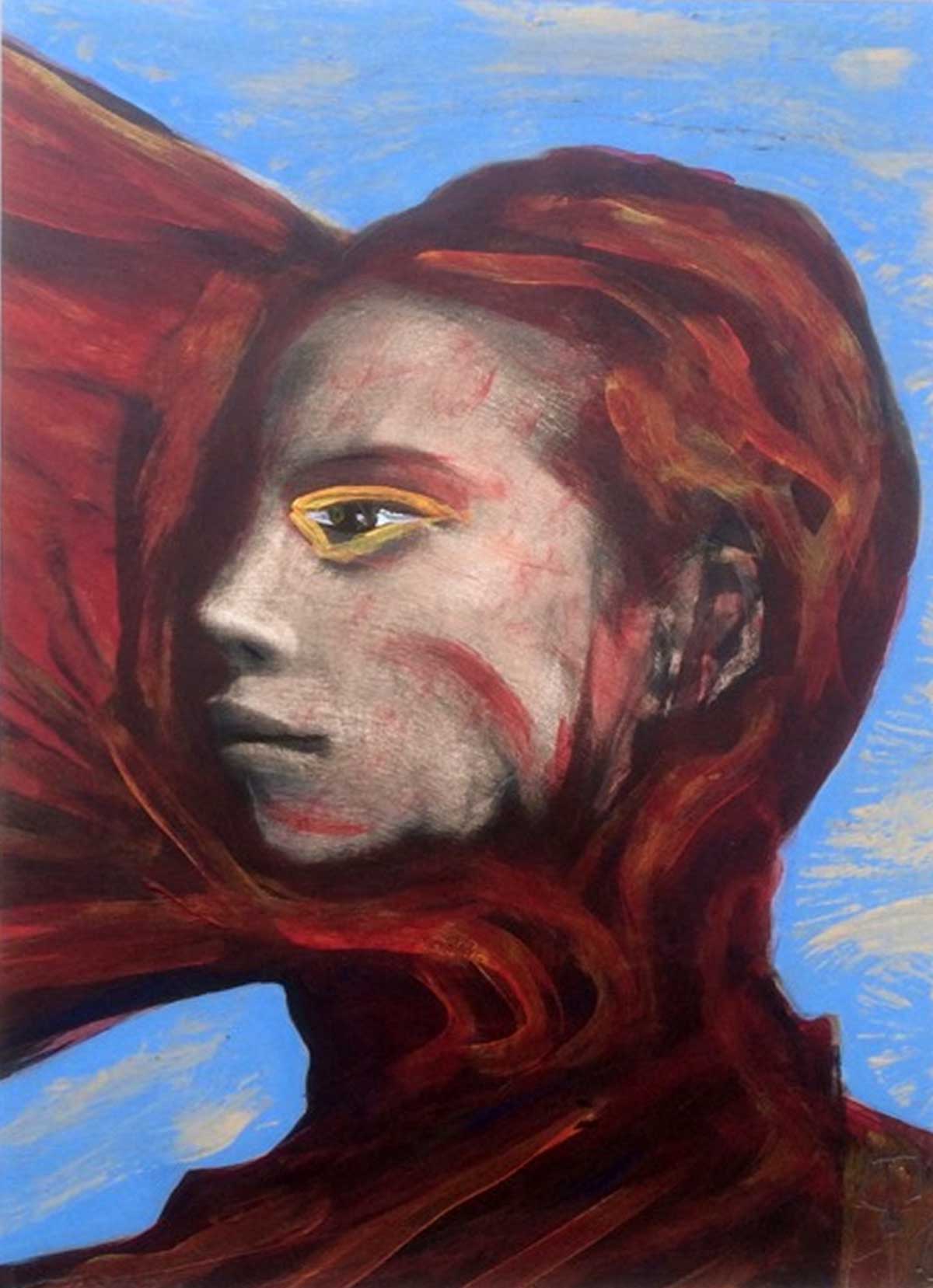 VISUMAN
The beauty of the world begins with food. Followed by fashion. Fortunately, there is Vogue magazine.
Five years after his death, it is time to pay homage to my friend, fellow artist and master Jürgen Zumbrunnen. "Fuck the vogue" he called his collages, in which he -as he expressed himself- smeared the remains from the palette on the newspaper sheets.
First my series should be named "Fuck the vogue – reloaded", but I decided to call it in the good old punk style "God save the vogue". www.visuman.de
Visuman, Berlin 14.09.2021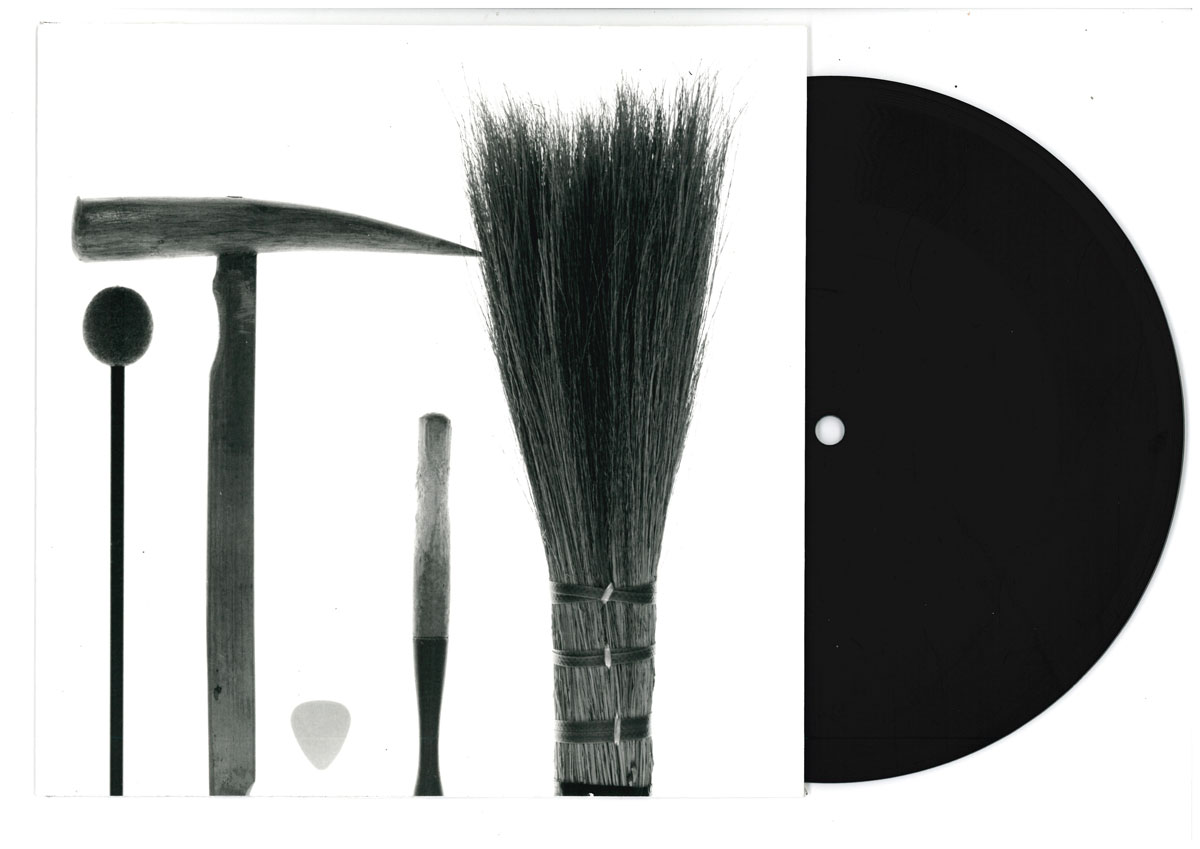 MICHAEL VORFELD – VENI, VIDI, AUDIVI, 2021
a unique collection of 25 self-recorded 7″ vinyl records and their self-made photographic covers on silver gelatin paper. Over several months Michael Vorfeld developed 25 very different short solo compositions, played and recorded by himself. In most of these musical miniatures Michael Vorfeld plays percussion as well as self-designed string instruments, but also his electro-acoustic set-up with light bulbs and electrical switching elements can be heard.
Each of these 25 audio recordings, ranging in length from two to four minutes, was cut into vinyl on one side as a single 7″ dubplate (7-inch vinyl record with 45 revolutions per minute).
In addition, each of the 25 records received its own individual cover in the form of a folded and glued photographic hand print on silver gelatin paper. Some of the photographic cover illustrations show concrete motifs, such as the instruments used, or graphic playing instructions that relate to the particular piece of music. Other cover photographs, however, show more abstract motifs with an exclusively associative reference to the music.
Each of the 25 hand-cut vinyl records and their handmade photographic covers on silver gelatin paper were produced in an edition of three copies. One copy of each is available for purchase.  www.vorfeld.org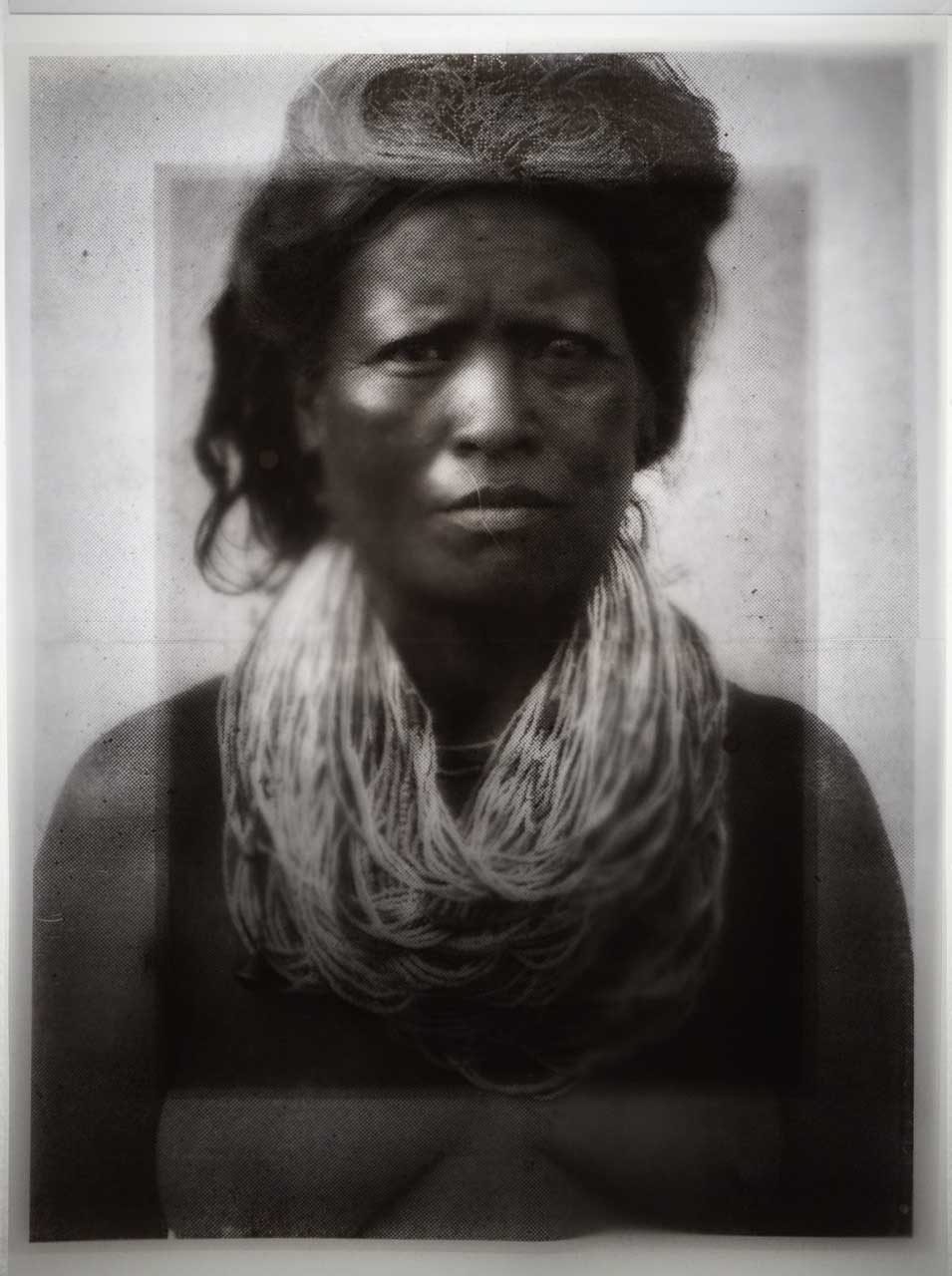 ANDRÉ WERNER
At the center of André Werner's work is the idea of a revival of the image. Like an alchemist who strives to get to the bottom of things, to recognize their uniqueness, he tries to lift the fleetingness of images, to give them the respect they deserve.
The current series of works "Der Blick zurück" (The look back)is an artistic examination of colonial and racist stereotypes, longings and "anonymous portraits".
In 1912, "Das Weib im Leben der Völker" by Albert Friedenthal is published in Berlin. The two volumes gather 1149 illustrations of mostly young women from all parts of the world. The depicted women are described only by their origin and occasionally by their function. Individuals in their own right are transformed into exotic objects of desire, sorted out like butterflies skewered in a showcase.
The goal of the project is a liberation, a peeling out of the women from the numerous superimpositions of meaning, in order to make a new, autonomous existence possible for them. For this purpose, the entire analog and digital instruments of image generation are used. With the declared goal of finding that magic moment in which a rebirth occurs. To a decolonization of the nameless women.
Many of the women look directly into the camera. "The Look Back" takes up this look, returns it with means of deconstruction, reproduction and intervention. With its revival, the images themselves get their gaze back, unobstructed by pro- jections and no longer trapped between pages of books.
It is a gaze that aims directly into the eyes of the viewer and invites them to look back. www.artyesno.com
We will show first results from this ongoing project that will be presented at the Artlab Tor 218 gallery during the Berlin Art Week, September 22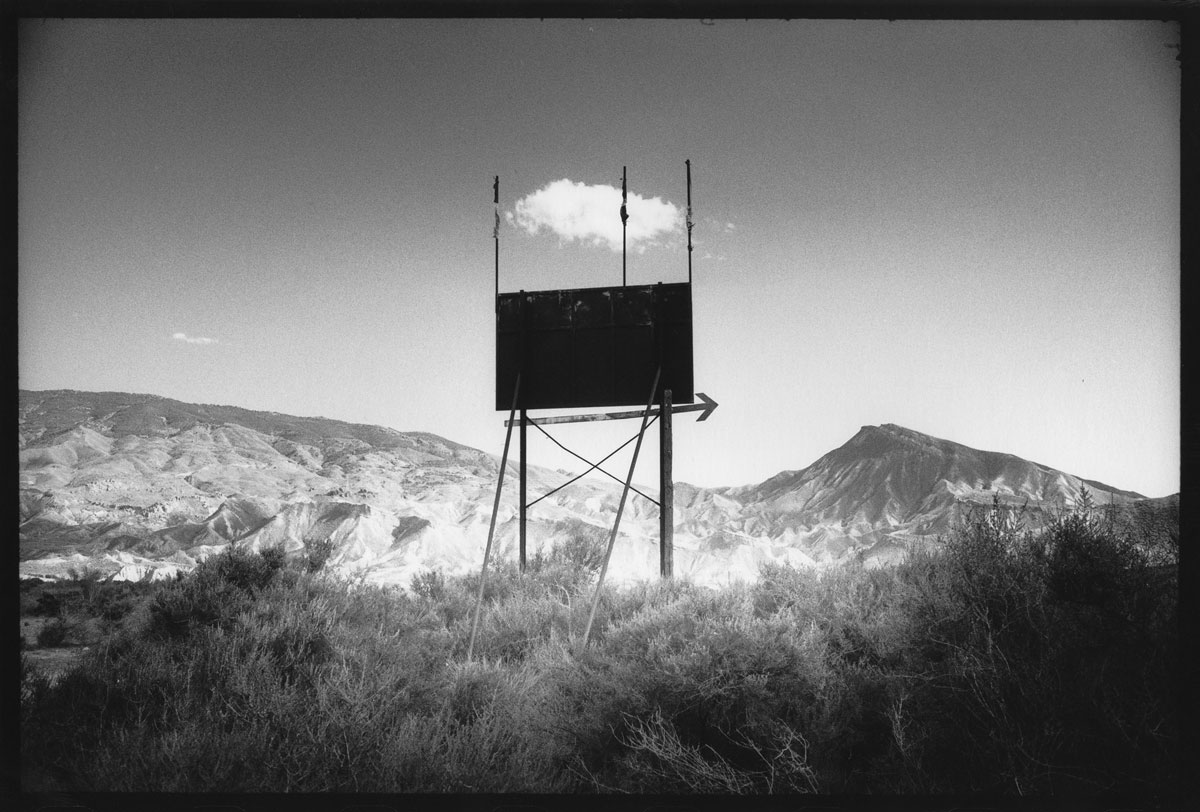 TELEMACH WIESINGER: REISENDER MIT DER KAMERA
Directors Lounge at the C.A.R. Photo Media art fair 2022 zeigt eine Auswahl der Bilderserie LOGBUCH: Die Schauplätze sind anhand der Längen- und Breitengrade nur ungefähr lokalisiert. Telemach Wiesinger geht es dabei nicht um die Abbildung eines spezifischen Ortes, sondern vielmehr um eine allgemeine Beschreibung von Reisewahrnehmungen. Telemach Wiesingers analoge Photographien Bilder folgen dem Gedanken: "Die Welt ist ein System von Zeichen" – Gute Reise!
Telemach Wiesinger, born 1968 in Bielefeld/Germany. Studies: Visual Communication at Universität Gesamthochschule Kassel / Germany, Diploma Master of Arts) 1995. Telemach Wiesinger`s multiple award winning film works are presented in solo programs or performances on numerous festivals and locations. www.telemach-wiesinger.de

KLAUS W. EISENLOHR
The photographs of the series were taken in Brasilia in 2019, the first year of the current government of Brazil, in a time of tension about the emerging new policies. All shots were taken with a two-lens Rolleiflex 6×6 camera with B&W and with color film, some with double exposures inside the camera.
In the general opinion, Brasilia's urban planning, the construction of a new capital in the center of the country, is considered to be a failure, although Brasilia, like many other cities in Brazil, has developed into a vibrant city of millions. The city center, the Plano Piloto, was designed in the shape of an airplane according to the plans of urban planner Lúcia Costa and under the supervision of architect Oscar Niemeyer, who also designed the government buildings. The visit does not reveal a failed urban planning, but rather the antagonisms of a city built with social aspects in mind, which today still shows numerous potential qualities for the future, opposed to the social reality of a radical capitalist, neoliberal urban development of Brazilian cities. However, almost only white Brazilians of the middle class reside within the Plano Piloto; for people of poorer class, the houses in modernist design and reminiscent of Le Corbusier are not affordable.
The photographs of Klaus W. Eisenlohr show a view recorded with sympathy through an old analog camera, discovering positive sides and contradictions by small and large, while strolling as a flaneur through the city center of Brasilia. The images have been arranged in tryptiches and alternate between color and black and white. www.richfilm.de
Booth, [Hall 12 | 30 ]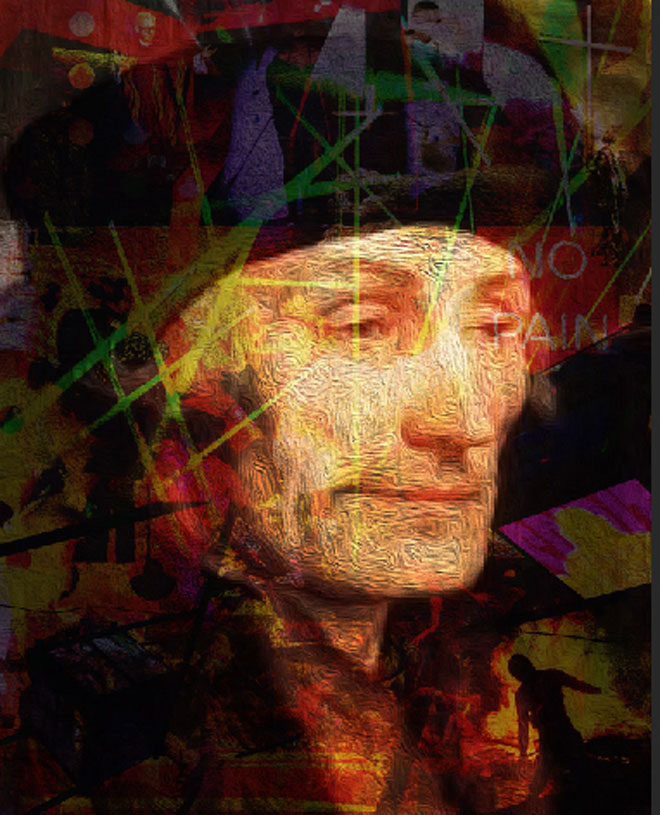 ANDRÉ YUEN
media artist André Chi Sing Yuen puts philosophical, social, religious and political manifestos into his artistic concept. He defines beauty and reality from a cosmopolitan point of view and explores a new concept with Asian and occidental symmetries. www.andreyuen.com