I cannot remember when I put this rat mask on for the first time. Maybe I was born with it. I am not sure what is underneath. I never take it off: I sleep with it, bathe with it. I have heard people call me a rat and others a human with a mask. I am unsure whether I am a rat or human. Perhaps my mother was a rat and my father a human. I think I am a bit of each.
Roger the Rat*
Trapped in a world he never made
Roger the Rat appeared first in a group of 60 photographs by Roger Ballen. A part-human, part-rat creature living in the shadows of society. A lonely soul, hiding underneath of what we call the civilized world, all alone, except for the companion of some dismembered mannequins and a multitude of rats.
My house has no address. It is impossible to find unless you are a rat. It is in the underworld, a place of my rat mind, my human mind, your mind.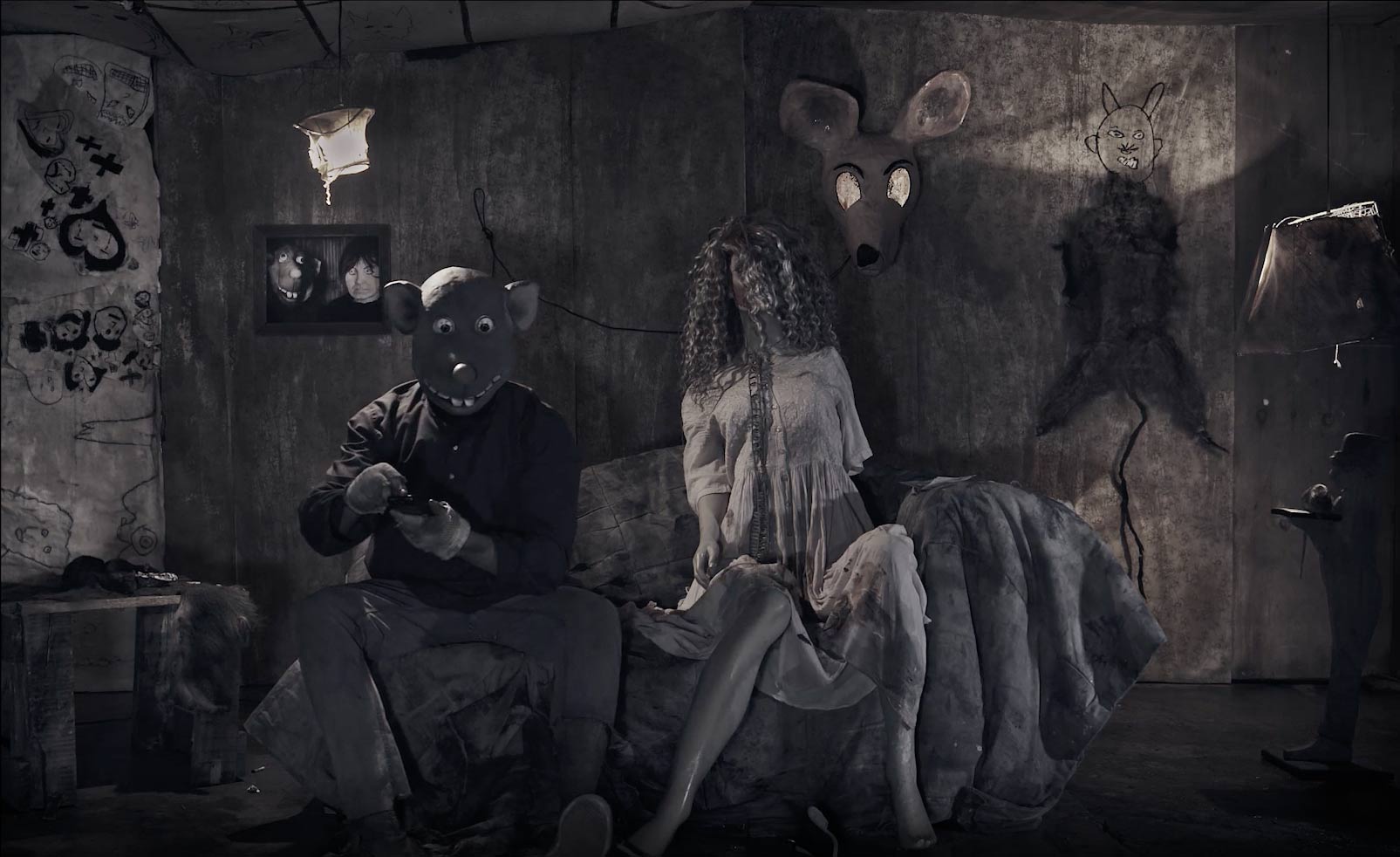 The world of Roger the Rat is a dark and claustrophobic realm, so close and yet so far away from the world we take for granted. In many ways completely different to his previous work, Roger Ballen captures the struggle of Roger the Rat in his signature style, fusing drawing, installation and photography into dark, Ballenesque works that are as disturbing as they are hauntingly beautiful.
Roger the Rat was first published as a book of photographs by Hatje Cantz in the Fall of 2020 and later emerged into a film by the same title, Roger the Rat.
Roger the Rat – The Film will be shown in German premiere during our art (not art) night, Friday 17. Sept. at the Schokoladen.
The premiere of Roger the Rat is complemented some of Roger Ballen's photographs in our exhibition "the cinematic moment".
15. – 19. Sept. Tor218 Artlab, Torstr. 218
opening hours: Wed 15. – Sat 18. 2pm -10pm | Sun 19. 2pm-7pm
Roger the Rat – The Film
One night I dreamed that the walls of my house were covered with rat faces all talking to me at the same time, asking my permission to be fixed to the wall. Upon waking I started drawing the faces I saw in my dreams. Most of my drawings had rat / human faces drawn with chalk that I begged from young children.
The movie follows its protagonist through the night, as he collects pieces of trash, clothing and mannequin limbs to create himself a place he can call home. He decorates the walls, makes diner, plays music for his furry or lifeless friends. Will he ever be able to live a normal life?
Roger Ballen
living in Johannesburg, South Africa is one of the most important and original art photographers working today. He is best known for his unique style that merges film, installation, theater, sculpture, painting and drawing into a surreal imagery that is commonly referred to as Ballenesque.
*All quotes in italic are taken from the book Roger the Rat
The presentation of Roger the Rat wouldn't been possible without the outstanding help of Sarie Pretorius, Simon Melchers and Roger Ballen.