• Sa sat 17 02
•18 h 30 • 6:30 pmUrban Research curated by Klaus W. Eisenlohr

Chicago – Elegischer Realismus – Elegiac Realism

• Paul Druecke USA Daley Plaza 4 min 50 sec, DV, 2006
• Paul Druecke USA Mainstreet Square 4 min 50 sec, DV, 2004
• Rebecca Meyers USA Lions and Tigers and Bears12 min, 16mm, 2005
• E. Stepien + Margaret Noble USA Sonata18 min 9 sec, DV, 2006
• J. Halprein + Jason Cortlund CZ Interstate Part One 6 min, DV, 2006

This program presents urban American reflections. In Chicago, a new generation of filmmakers has been coming up, who make use of documentary approaches together with traditions from art and film avant-garde. A generation who projects their own views and who asks questions instead of having answers already ready.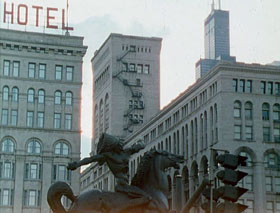 Rebecca Meyers US Lions and Tigers and Bears
• 20 h • 8 pm Film and Poetry curated by Thomas Zandegiacomo

ZEBRA

• Assorted highlights from the biannual ZEBRA poetry film awards
among them/ unter anderen mit

• Antonello Faretta IT Just Say No To Family Values 4 min 37s, DV, 2005

• Shelly Wain GB The Cummerbund 3 min 21s, DV, 2004

• Taatske Pieterson NL One Person/Lucy 3 min 30s, DV, 2005

• Eddie White, James Calvert AU Carnivore Reflux 7 min, DV, 2006

• Rong GB Oedipus 6 min, DV, 2005

• Jason Lam AU Unfed 6 min 25s, DV, 2005

• Ralf Schmerberg DE Nach grauen Tagen / After Grey Days 5 min, DV, 2003

• Eivind Tolas AU Love Is The Law 7 min, 35mm, 2003


In attendance of Thomas Zandegiacomo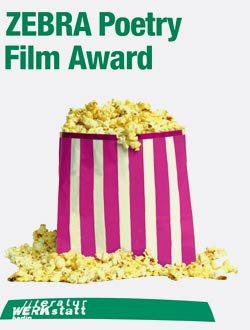 The ZEBRA Poetry Film Award has become established as the largest viewing forum for short films relating to poetry in terms of content, aesthetics or form. The ZEBRA Poetry Film Award is a project of the Literaturwerkstatt Berlin in cooperation with interfilm berlin
• 22 h •10 pm Australian video art curated by Shaun Wilson

Australian Gothic

Shaun Wilson is a Melbourne-based artist, curator and academic working with themes of memory, place and scale.

• Alex Avtzoglou AU One Two Red Blue 10 min, DV

• Larissa Hjorth AU Loosing You 1min 54s, DV

• Tammy Honey AU Threesome 3 min 39s, DV

• Brie Trenerry AU She Creeps 2 min 36s, DV

• Marsha Berry AU Untitled 2 min 56s , DV

• Shaun Wilson AU Uber memoria I: short version 8 min 48s, DV

• Brendan Lee AU Two Birds with One Stone 14 min 51s, DV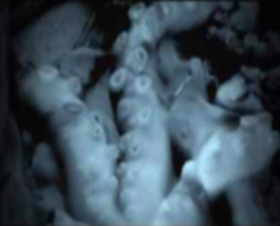 Alex Avtzoglou AU One Two Red Blue

The selection of emerging and established Australian video art
represents a snapshot of current practice which evokes darkened themes of a 'Gothic Mode' exploring death, lost memory, sex, desire, trauma, sleep paralysis and violence.
• 24 h •12 pmmidnight feature

Muhammad And Jane

• Usama Alshaibi US/IQ Muhammad And Jane 80 min, DV, 2003

"Video maker Usama Alshaibi is the sort of canny visual stylist who can sustain a mood... the handheld videocam, tight close-ups, and disorienting angles create a potent sense of paranoia. The haunting score is by Andy Ortmann and Camilla Ha."
Ted Shen Chicago Reader