• Mi wed 14 02
•18 h 30 • 6:30 pmThe Making Of a film by Viola Stephan

a documentary about vision, neuroscience and filmmaking

• Viola Stephan DE The Making OF 86 min, 35mm, 2005

Ein heiterer Essay über die Verbindung von Denken, Wahrnehmen und Kino, Kopfkino im wahrsten Sinne des Wortes, das anregt, Kino anders zu betrachten, als wir es bisher taten: Denn Film ist nicht nur Unterhaltung, sondern die Quintessenz unseres Denkens und Fühlens, eine Analogie, die uns letztendlich tiefer zu uns selbst bringt.
Joachim Kurz
Mit Andreas Oehler, Regisseur des folgenden screenings, als Protagonisten.

In attendance of Viola Stephan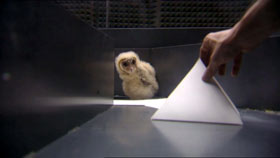 How creative is science ?
How objective is filmmaking ?
Seeing is believing - a documentary about vision, neuroscience and filmmaking
read more
• 20 h • 8 pm Wolf Biermann

Hunger nach Heimat a portrait by Trude Trunk and Andreas Oehler


• Trude Trunk and Andreas Oehler D Wolf Biermann - Hunger nach Heimat
43 min , 2006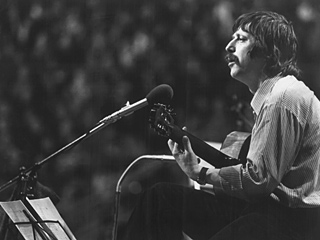 photo: picture-alliance
• Wolf Biermann during the legendary concert at the Sportpalast, Cologne, november 13th, 1976 that led to his denaturalization.

In attendance of Trude Trunk and Andreas Oehler

Hunger nach Heimat (Hunger for homeland) by Trude Trunk and Andreas Oehler draws a sensible portrait of the seventy years old poet that gives an insight into his mind. They accompany the balladeer on his search for family roots in Hamburg, visit his working space, are guests among his family and follow him on concerts and into his Catalan summer residence.
Wolf Biermann has very rarely expressed himself in such a keen and striking way. Friend or foe, anyone who believes to know "his or her" Biermann, will get a surprise.

• Der Film von Trude Trunk und Andreas Oehler zeichnet ein einfühlsames Porträt des Dichters im 70. Lebensjahr, das einen Einblick in die heutige Lebenswelt Biermanns gewährt. Das Team begleitet den Liedermacher in Hamburg auf seiner Suche nach den verschütteten Wurzeln einer tragischen Familiengeschichte, ist Gast in seinem Arbeitszimmer und im Kreise seiner Familie und folgt ihm zu Konzerten ins In- und Ausland und in sein katalanisches Sommerdomizil
Selten gab der Dichter in einer vergleichbar eindringlichen Weise über sich Auskunft: Freund oder Feind - alle, die glauben "ihren" Biermann zu kennen, sollten sich auf Überraschungen gefasst machen.
source NDR



In Anwesenheit von Trude Trunk und Andreas Oehler
• 22 h • 10 pm Animation Pixellation curated by Kim Collmer

Animate Locate

• Johannes Nyholm SE The Tale of Little Puppetboy
4 min 20 s, stop motion, 2005

• Virgilio Villoresi and Vivì Ponti IT Fridgedaire 5 min 41 s, cut-out, 2005

• Meredith Root US Anxiety Invention 3 min, hand-drawn, 2006

• Norma V Toray US Army of Me 4 min 8 s, mixed media, 2004

• Anita Allyn US Imaginary Lines 2 min 20 s, DV, 2005

• Thessia Machado BR/US Today I'm Here 48 s, pixellation, 2006

• Eric Dyer US Copenhagen Cycles 6 min 35 s, zoetrope, 2005

• Kim Collmer DE/US Berlin Skin 2 min, mixed media, 2007

• Cecilia Lundqvist SE Making Pancakes 4 min 58 s, hand-drawn, 2005

• Hei Cheng GB Board 1 min, stop motion, 2005

• Lisa Barcy US Mermaid 15 min, stop motion, 2007

• *David Shrigley/ Chris Shepard GB Who I Am And What I Want
7 min 20 s, hand-drawn, 2006

Looped before and after the show:

• Johannes Nyholm and Jen DeNike SE/US Fever Dreams
Shot footage and animation, 2006

• Fawn Krieger US New World cut-out , 2004

Animate Locate

It is all about location- locations which give us comfort or discomfort, allow us to imagine, to laugh, squirm, locations that transport us or bring us quickly, and sometimes harshly, back to reality.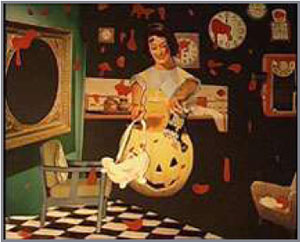 Virgilio Villoresi and Vivì Ponti IT Fridgedaire

more here

• 24 h • 12 pm Leihberg, Kahlen, Penck

Performance documentations

Achtung Aufnahme

• Wolf Kahlen DE Achtung Aufnahme 18 mins, DV, 1980/92

In the night of February 1st, 1980, just before his leave to New York City,
Wolf Kahlen gave the first and last videoperformance in the history of the East German Regime at the occasion of his one man show at the Galerie Schweinebraden, East- East, GDR,
This historic event on an open reel video tape is in this videodocument
commented by Wolf Kahlen 12 years later.
An exiting piece of East-West artists relations under the Socialist regime
and of great historic value of these two well known artists.

more here

Helge Leihberg

• Helge Leiberg Noise Paintings DE
25 mins, DV, 1991/ 2006

Die "Noise Paintings" von Helge Leiberg, bei denen die Kratzeräusche projezierter Malaktionen elektronisch verstärkt werden, generieren Film ohne die Malerei zu verlassen. Die Aufzeichnung einer solchen optisch-akustischen Performance von Lothar Fiedler & Helge Leiberg (am 27.11. 1991) wurde erstmalig im April 2006 als Teil von Figures Of Motion gezeigt.



• Wolf Kahlen DE Achtung Aufnahme