• Mo mon 12 02
• 18 h30 •6:30 pm China Doc part 03 curated by Marina Foxley

Outside

• Wang Wo CN Outside (wai mian) 86 min, DV, 2005


Marina Foxley will be present
In cooperation with Zhu Rikun and Fanhall Studio, Bejing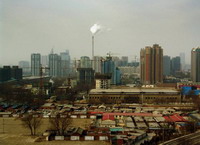 The footage of this film was taken in Beijing between 2001 to 2005. It shows several snippets of trivial ordinary and accidental things that happen every day outside in the streets. By seing bits of daily life in the film, perhaps we can see our real life, its commonness, its unexpected and so on...
• 20 h • 8 pm Nice Bombs by Usama Alshaibi

My Journey To Iraq

• Usama Alshaibi US/IQ Nice Bombs 92 min, DV, 2006

Nice Bombs shows filmmaker Usama Alshaibi as he returns to Baghdad to reunite with his family after nearly 24 years. This documentary navigates through his unique relationship to an Iraq that is much different than the country of his childhood.
Usama captures the conflicting reactions to the conditions of life in Baghdad.
Through a wide range of opinions and experiences he provides a broad panorama of voices long neglected under Saddam's regime.
His cousin Tareef enters the room upon hearing an explosion. "It's a bomb. A Nice Bomb," he explains. The phrase is indicative of his family's nonchalance about their situation. As one young boy put it, "We're Iraqis. It's normal." With humor and resilience Nice Bombs explores Usama's dual role as both Iraqi and American. more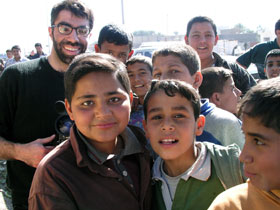 Usama Alshaibi during shooting in Baghdad
• 22 h • 10 pmDiavortrag Ein Remake-Experiment von Cosima Reif

Junge Wiener

13 1/2 Jahre nach Falco's JUNGE RÖMER ist es an der Zeit, auch mal junge
Wiener zu loben. Natürlich auch zu tadeln. Sowohl Präpotenz (welch schönes
wienierisches Wort) als auch Genialität, die jungen Wienern aus den Augen
blitzen könnte, wird natürlich von den alten Wienern beargwöhnt, deshalb
besser versteckt. Man muß also die Zeichen, die junge Wiener aussenden, zu
interpretieren wissen. Das ist, worum es geht.

13 1/2 years after Falco's JUNGE RÖMER (Young Romans) it is about time to flatter the young Viennese. Prepotenz (such a charming Viennese term)
as well as ingenuity, that may sparkle in the eyes of the young Viennese lads,
is suspected by the elderly and therefor hidden. Thus making it necessary to construe the subliminal signs of the Vienna boys. That´s what it´s all about.

Im Anschluss

• Nina Lassila FI Tele Pets 7 min 34s, DV, 2006

• Ianthe Jackson US Five 8 min, DV, 2006

• Stephen Haley AU Start Rek 14 min 24s , DV, 2006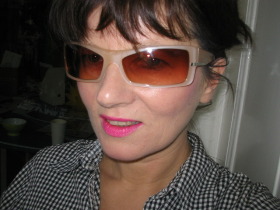 the face of pure chance: Cosima Reif
• 24 h • 12 pm MIDNIGHT HORROR Warhol Zombies and Killer Girls
Mumien Monster Mutationen


• Usama Alshaibi US/IQ Muffin 5 min 30s , DV, 2000

• Mario De Giglio Bellemaren CA Uncanny 15 min, DV, 2006

• John Allen Gibel US Pleromadromadhatu 33 min, DV, 2006


Usama Alshaibi US/IQ Muffin
Muffin is sweet. Muffin is soft. Muffin will spit and cut your head off.