• Sa sat 10 02
•18 h 30 • 6:30 pma closer look curated by Directors Lounge

selected shorts

• Sheri Wills US Gravity 14 min, DV, 2004
• Masha Godovannaya RU Gnawed Vanity 8 min, DV, 2006
• Jean-Gabriel Périot FR Undo 10 min, 35mm, 2005
• Masha Godovannaya RU A Few Drunkards At The Marsbar 1 min, S8, 2001
• abjectleaderSally Golding (film) Joel Stern (sound) AU
Bloodless Landscape 6 min 40s, 16mm, 2004
• Jean-Gabriel Périot FR Under Twilight 5 min, DV, 2006
• Sheri Wills US Effigy 2 min 30s, DV, 2004
• Masha Godovannaya RU Untitled #1 4 min, S8 DV, 2005



• 20 h • 8 pmIn Focus Wolf Kahlen curated by Gallery KMZA

Trespassing • video 1969 >

Einer der ersten Videokunstponiere Deutschlands im Portrait

A closer look into the work of one of the earliest video art pioneers.

• Ich kann sagen was ich will 5 min, 1975
• Selbstversuch II (Körperrasur) 1 min 45s, 1969/71
• Trespassing 5 min, 1969/1971
• Selbstversuch IV (Bräunung) 5 min 45s, 1969/71
• I can't get hold of her 5 min, 1975
• Lindentunnel 7 min 36, 1991
• Some proofs/Some more proofs of water refraining from shaping
12 min 43s, 1991/2002
• Art Flood 4 min 22s
• Schnelles grau 6 min 49s, 1990
• Wolken die Berge Versetzen 36 min 36, 1990/1999

• more here

Im Blickfeld Wolf Kahlen curated by Gallery KMZA

Wolf Kahlen Trespassing 1969/71
aus dem Zyklus Angleichungen
• 22 h • 10 pm LiveBox, Chicago curated by Catherine Forster

part 1: "Didn't Cha Know"

• David Lachman US Home Made 4 min 50s, DV, 2004
• Rachelle Viader Knowles CA In My Mind I am in NY 9 min 45s, DV, 2005
• David Lachman US Flower to Flower 6 min 50s, DV, 2004
part 2: "Knots and Crosses"

• Irina Botea RO/US Aktion 1 min, DV, 2003
• Kazuhiko Kobayashi JPGate Vision 5min 24s, DV, 2005
• Thom van der Doef US Cup 4 min, DV, 2006
part 3: "Sparkling Diamonds"

• Lee Arnold GB/US Alpinia 1 min 36s, DV, 2006
• Galina Schevchenko RU/US Flower Immersion 7min 35s, DV, 2006
• Patricia Shrigley GB Pilchard 4 min, DV, 2006
part 4: "Brothers Grimm"

• Jill Johnston-Price US PrickleE Britches 6 min, DV, 2006
• Catherine Forster US Humpty Dumpty 7min 35s, DV, 2006
part 5: "Experimental Melodies"

• Carol Kim /US Chasing Pools 8 min 35s, DV, 2005
• Tony Gammidge GB A Short Song About Thread 4min 06s, DV, 2005
• Kim Collmer US/DE Lichtwelten 4 min 30s, DV, 2006
• Scott Wolniak US The Pond to the Ocean 6 min 40s, DV, 2006

Catherine Forster will be present

detailed program here and here
part 1:This selection of work is a playful look at contemporary narratives.
All the artists deploy humor and tap into the mundane moments of life.
part 2 : short, sharp and witty
part 3 : The artists in this program load their work with saturated colors, intensity, high energy and inventiveness.
part 4 : This selection of work evocatively appropriates and manipulates childhood nursery rhymes and fairy tales.

part 5 : This selection is the most experimental and includes two gorgeous non-narrative musings.
• 24 h • 12 pm assorted shorts compiled by Directors Lounge

Boy Meets Girl

• AV RU Dubus 4 min 9s, DV, 2005

• Angélica Chio MX Le t Us First Be Friends 3 min 24s, DV, 2006





• Ciro Altabás ES DVD 17 min 50s, HD, 2006


AV RU Dubus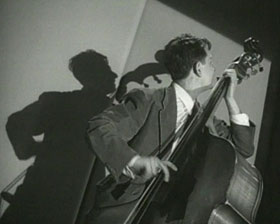 A slow dance of the classical cinema to the music of Zelany Rashoho.
Angélica Chio MX Le t Us First Be Friend
Von einer gehörigen Portion Kontaktanzeigenromantik begleitet, suchen flüchtige Gestalten einander im Großstadtdschungel.
Ciro Altabás ES DVD
The Spanish comedy short titled "DVD" is about a geek and his love for video games, movies and an ex-girlfriend. It's a life lessons movie with game cameos from Tetris R-Type and creative GTA opening title sequences to name a few.
You can check out the movie in its entirety without subtitles on Google Video.