• So sun 11 02
•18 h 30 • 6:30 pmUrban Research curated by Klaus W. Eisenlohr

Urbane Labore – City Labs

• Katerina Seda CZ Es gibt nichts da14 min, DV, 2005
• Anu Pennanen FI Soprus 30 min, DV, 2006
• Jae-Joon Cho GB Bullying: Stand Alone 6 min 50s, DV, 2005
• [AHA] und Irene Bude DE Das Geheimnis von LE *2 11 min, DV, 2005
• Ivan Martinez USA Fear Itself...Yeah Right 7 min, DV, 2006




• The camera leaves the non-engaged point of view, the tripod. The artist's observations shift to interaction, the documentarist gets her hands on the story of a village. And the film script is being formed by the reality of the protagonists (youngsters living in Tallinn).
• The collected films are results from interventions with youths and adults, or derive from the self-experience of the maker. As they are a spatial practice themselves, the films mirror these perceptions from engaging interventions in the urban environment.
• 20 h • 8 pm China Doc part 02 curated by Marina Foxley

Paigu

• Liu Gaoming CN Paigu (paigu) 106 min, DV, 2006

Paigu ist ein junger Mann, der von der Provinz Jiangxi kommt, und gebrannte DVDs in Shenzhen verkauft, um für seine Bedürfnisse aufzukommen. Die Filme, die er verkauft, sind Autorenfilme. Er kennt sie alle, jedoch sah er davon keinen. Er denkt, daß er sie wegen seines schwachen Bildungsniveaus nicht verstehen kann. Er hofft, eines Tages der Liebe zu begegnen, obwohl er an seinem Glück zweifelt. mehr

Marina Foxley will be present
In cooperation with Zhu Rikun and Fanhall Studio, Bejing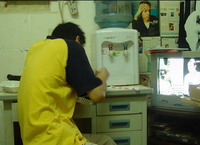 Paigu is a young man from Jiangxi Province, selling pirate DVDs in Shenzhen to make a living. It is rather cynical that he sells only art films, knows everything about them but has never seen one. He said that he possibly would not understand them because of his poor education backround. He has always expected romance too, but he thinks that people like him has no chance to find true love.. more

• 22 h • 10 pm Asia Europe Mediations

presented by Hania Kusmirek and Tomasz Wendland

Asian attitude • European attitude

Part 01

• Andrew Eyman PL The End 5 min, DV, 2000/4

• Ukasz Gronowski PL Backstage 1 min 55s, DV, 2003/4

• Kei Takahashi JP Child´s Trip 6 min 10s, DV, 2005

• Peter Grzybowski ? News 19 min 40s , DV, 2004

• Nicolas Primat
QUELLQUE NOTES DE DOUCEURS DANS UN MONDE DE BRUTES
5 min 30s , DV, 2002

• Artur Klosifski PL Tokyo 19 min, DV, 2001


Part 02

• Miroslaw Kaczmarek PL Pop Sentence 3 min 36s , DV, 2005

• Michal Brzezifski PL Rise 2 min 2s , DV, 2005

• Grupa NUDA PL Shipyard Stills 3 min 25s , DV, 2005

• Gniewko Falana PL Melody 1 min 45s, DV, 2005

• Ukasz Nowak PL Wie Owiec Plotka 6 min, DV, 2004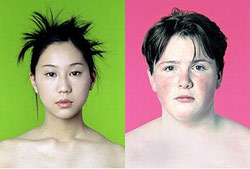 Asian attitude • European attitude
Part 01 of the screening presents assorted videoworks from
Asia Europe mediations

• Asia Europe mediations is going to be an exceptional artistic event, which will take place summer 2007 in Poznan. Several art institutions from Poznan, among them Poznan National Museum, will carry out this project. Almost 120 artists from two continents, will have an animated dialogue by all available, contemporary artistic means. Assorted works will be presented by two of the artistic directors.

• Asia Europe mediations ein aussergewöhnliches Kunstprojekt welches ausgehend von Poznan, Polen 120 Künstler aus zwei Kontinenten im Dialog präsentiert. Eine Auswahl von Asia - Europe Mediations wird in Berlin durch zwei der Kuratoren präsentiert.
Part 02 presents a selection of emerging video artists from Poland
• 24 h • 12 pm videos from Poland compiled by Lokal 30

You Can't Come Closer

• Anna Baumgart PL True? 3 min 30s, 2001

• Zuzanna Janin PL In Between 10 min, 2005

• Anna Janczyszyn PL Off the City 22min, 1993

• Anna Konik PL Transparency 35 min 50s, 2004

• Laura Pawela PL My talent Insurance 12 min, 2006

• Józef Robakowski PL My Video Masochisms, 4min, 1990



You Can't Come Closer presents video-works of Polish artists which build intimate narration dealing with various emotional states or social situations. What binds these works together is the revisiting of Poland's video & film making tradition using the human body as a means of communication