Fri 19th 10:15 pm

Unnatural resources is a small selection of works which are dealing with the human dilemma between whether to detach or immerse itself from the environment that has been defined (by the humans) as ´nature´.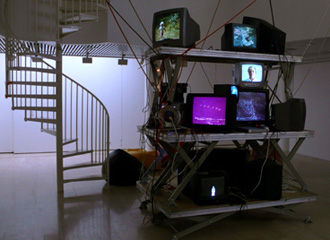 Juha van Ingen FI Nature Morte 4min 30sec 2007
Seppo Renvall FI Nature 23min 00sec 2010
Mi Duncker FI Aluminium 4min 35sec 2003
Erkka Nissinen FI Night School 12min 50sec 2007
Kari Yli-Annala FI A Life of One´s Own 9min 00sec 2008
Unnatural resources includes a brand new 20 min brilliant work by Seppo Renvall called "Nature", Erkka Nissinen´s hilarious 12 min work "Night School" (2007) about ´exercises for assimilation into a total institution´ (Nissinen) and other works by FixC artists.
Helsinki-based FixC is an independent artists co-operative, which was launched in april 2007 to generate, distribute and promote video art, media art and experimental cinema and to produce curated touring exhibitions, arrange screenings and special venues with artists talks.