/ deutsche Version unten /
Caroline Fayette's first brush with DL was in 2014, where her short film The Island Where I Come From (made with Chloé Guerbois under the name Studio Twins) made the list for the 10-day DLX. Her work again showed up at a DL presentation at c.a.r. (Contemporary Art Ruhr) in Essen. The lithe, kinetic Parisian now runs Blender Studio in Berlin-Neukölln. The space has already played host to one DL special screening event.
What do you call yourself?
I call myself a photographer.
What is the first thing you do every day that you like?
Check my e-mails.
What is the last thing you do every day that you don't like?
Clean the studio before going.
How about a word you never use?
"Never."
Which band of the French Tricolore represents you best?
The red one, because it's my personality – energetic. It's an energetic colour.
Are you OK with a position that's not the centre of the flag?
Yeah – it's the one that looks forward.
What's your favourite shade of sunglasses? Not the frames, but to look through?
Blue.
When do you feel like a fish out of water? When I have to socialize somewhere, like going to an event on my own where I will have to socialize with people.
But you have a lot of people coming through your studio….
Yeah, to my place. I feel like a fish out of water when it's not at my place. That's why I built the studio. I'm a very shy person. As soon as you bring me out of my comfort zone and I have to socialize, I'm terrible. That's why I have a studio and a dog. The dog is doing the job. (laughs)
What about at home? Is it also awkward there?
Anywhere that is not my place. The studio is like home. Here it's OK, but when I'm going to a concert on my own? Terrible. Going to an exhibition all alone, or an event where I would have to meet people? Oh no, it's terrible.
Because the conversation's not on your wavelength…?
No, no, doesn't matter what they talk about! (laughs)
What is the "big picture" to you?
I don't know, I can only think about five or ten years from now; I can't picture anything further. I would say the "big picture" is having at least two studios and being someone even more important in promoting young photography, making this festival for young photographers happen, working as a photographer. A bigger studio, bigger incomes and bigger events– because they are all tied together. I'd like to have more money to be able to spend more in promoting all this. Making the "big picture" is social work; working with people, helping, promoting people. Being at the beginning of a new scene, establishing something proper – that's the "big picture."
Someplace you would like to have your name?
A few galleries! Like Galerie Baudoin Lebon, or the MoMA. That's where I'd like to have my name.
What would you like to say to your dog Paul, if he could understand you?
That he's my best partner in life.
Your camera is in front of you, and you're talking to the camera. What do you say?
"Make me look real!"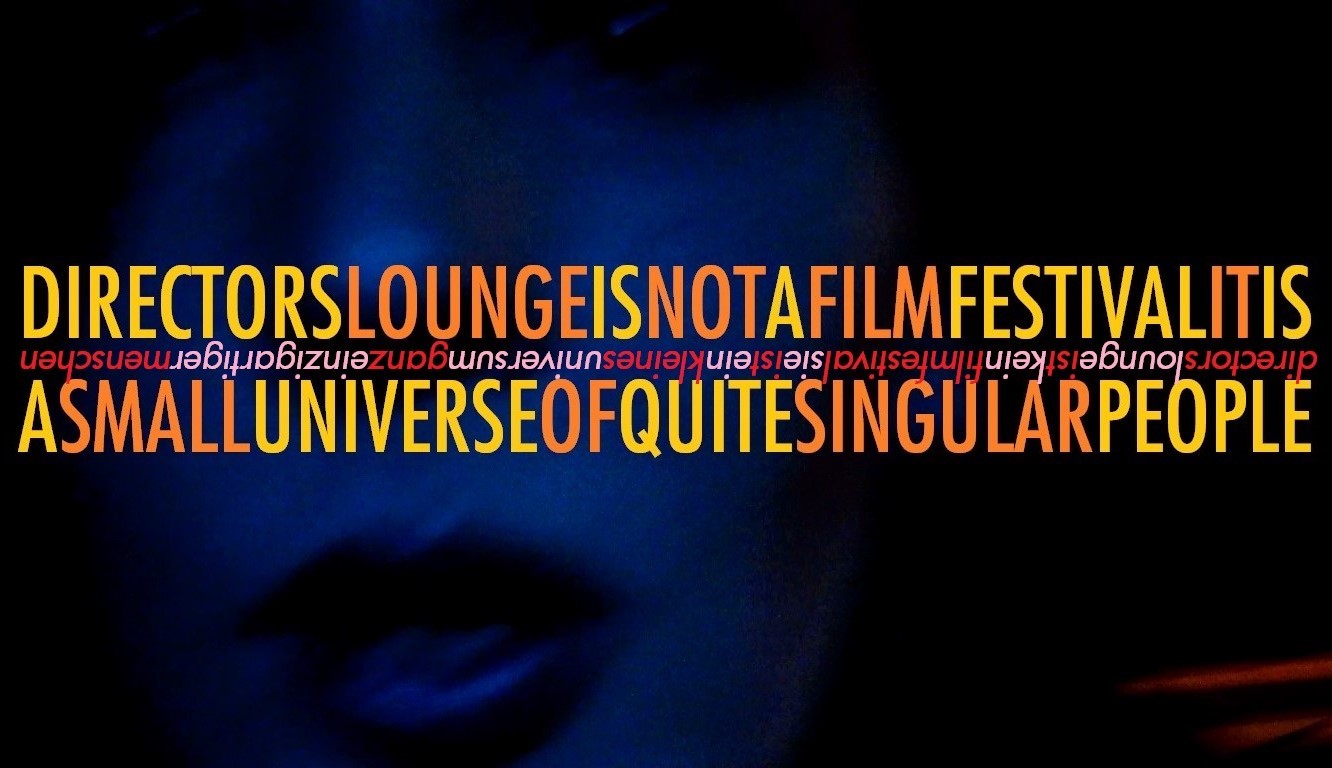 ---
[DL] FEATURILLO #3: CAROLINE FAYETTE /FR/
(English version above)
Caroline Fayettes erste Berührung mit DL fand statt im Jahre 2014, als ihr Kurzfilm The Island Where I Come From (ein Gemeinschaftsprojekt mit Chloé Guerbois unter dem Namen Studio Twins) es in das 10-tagige DLX-Festival schaffte. Ihre Arbeit tauchte erneut als Teil einer DL-Präsentation bei c.a.r. (Contemporary Art Ruhr) in Essen auf. Die geschmeidige, kinetische Pariserin betreibt jetzt das Blender Studio in Berlin-Neukölln. Der Raum war bereits Veranstaltungsort einer DL-Sondervorführung.
Als was bezeichnest du dich?
Ich bezeichne mich als Fotografin.
Was ist das Erste, was du jeden Tag machst, was dir gefällt?
Meine E-Mails abrufen.
Was ist das letzte, was du jeden Tag machst, was dir missfällt?
Das Studio reinigen, bevor ich nach Hause gehe.
Und was wäre ein Wort, das du niemals verwendest?
"Niemals."
Welcher Balken der französischen Trikolore repräsentiert dich am besten?
Der Rote, weil er meine Persönlichkeit entspricht – energiegeladen. Es ist eine energiegeladene Farbe.
Findest du es OK, eine Position darzustellen, die nicht der Mittelpunkt der Fahne ist?
Ja – es ist diejenige, die nach vorne schaut.
Was ist deine Lieblingsfarbe für eine Sonnenbrille? Nicht das Gestell, sondern die Farbe, durch die du hindurchschaust?
Blau.
Wann fühlst du dich wie ein Fisch auf dem Trockenen?
Wenn ich irgendwo Kontakte knüpfen muss, zum Beispiel alleine auf eine Veranstaltung zu gehen, wo ich mit Menschen gesellschaftlich verkehren muss.
Aber häuflg verkehren ganz viele Leute in deinem Studio….
Ja, bei mir. Ich fühle mich wie ein Fisch auf dem Trockenen, wenn sowas nicht bei mir stattfindet. Deshalb habe ich das Studio eingerichtet. Ich bin ein sehr schüchterner Mensch. Sobald du mich aus meiner Komfortzone herauslockst und ich mit anderen gesellschaftlich verkehren muss, bin ich hilfslos. Deshalb habe ich ein Studio und einen Hund. Der Hund macht den Job. (lacht)
Und bei dir zu Hause? Ist so etwas für dich dort auch unangenehm?
Überall ist das der Fall, wo es nicht meine gewohnte Umgebung ist. Das Studio ist wie ein Zuhause. Hier geht es, aber wenn ich alleine auf ein Konzert gehe? Schrecklich. Ganz allein eine Ausstellung zu besuchen oder eine Veranstaltung, wo ich Leute kennenlernen müsste? Oh nein, es ist schrecklich.
Weil das Gespräch deine Wellenlänge nicht entspricht …?
Nein, nein, es spielt keine Rolle, worüber man reden! (lacht)
Was ist für dich das "big picture" [etwa das "große Ganze"]?
Ich weiß nicht, ich kann nur über die kommenden fünf oder zehn Jahre denken; ich kann mir nichts Weiteres vorstellen. Ich würde sagen, das "big picture" wäre mindestens zwei Studios zu haben und noch wichtiger zu sein, wenn es darum geht, Fotografie von jungen Menschen zu fördern, dieses Festival für junge Fotografen zu verwirklichen, als Fotografin zu arbeiten. Ein größeres Studio, größere Gagen und größere Veranstaltungen – weil sie alle miteinander verbunden sind. Ich würde gerne mehr Geld haben, um mehr für das Promoten all dies ausgeben zu können. Das "big picture" zu schaffen, das ist Sozialarbeit; mit Menschen zu arbeiten, Menschen zu helfen und zu fördern. Bei der Entstehung einer neuen Szene dabei zu sein, etwas Angemessenes zu etablieren – das ist das "big picture".
Irgendwo, wo du gernen deinen Namen hättest?
Ein paar Galerien! Wie Galerie Baudoin Lebon, oder etwa das MoMA. Da würde ich gerne meinen Namen haben.
Was würdest du gerne deinem Hund Paul sagen, wenn er dich verstehen könnte?
Dass er mein bester Partner im Leben ist.
Deine Kamera steht vor dir, und du sprichst mit der Kamera. Was sagst du ihr? "Lass mich echt aussehen!"
Interview: Kenton Turk. Header Photo: Kathrin Leisch