• Do thurs 12 02
• 18 h • 6 pm videos from Indonesia curated by Katerina Valdivia Bruch






Cyka (Indonesia) – Stereo pathetic of Final Curse / 01:20 / 2004
Eko Nugroho (Indonesia) – Dark Disco / 02:02 / 2004
Eko Nugroho (Indonesia) – Let Me Love Me / 02:16 / 2004
Luo Fei (China) – In The Room / 03:00 / 2002
Nangski (Indonesia) – Adiksi / 02:34 / 2005
Wok The Rock (Indonesia) – How Low Can You Go, Lisa / 05:05 / 2004

• 18 h 30 • 6:30 pm I want to make a video curated by LiveBox

Chie Yamayoshi JP/US I want to make a video about you 2005 12 min
Pierrre St Jacques US Project for a Grey Dress in NY 2005 12:30 min
Ellen Lake US I was Never Glamorous, I was Just Aroun d 2006 2min 16 mm
Christopher Bruchansky BG On The Couch 2006 7min
Elizabeth Riley US Liberty 2007 12min
Marlo Bodzick AU w_b_m (water, breath, money) 2005 2:27 min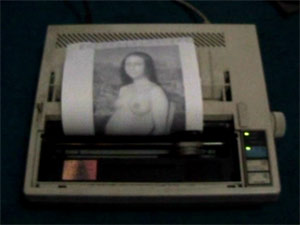 Wok The Rock How Low Can You Go, Lisa
The image on this video is a painting by Japanese artist Yasumasa Morimura in which he parodes Leonardós masterpiece. Using the same idea of reapropiation, Wok The Rock puts Morimurás work in a new context by printing the image with a low quality and old printer. Additionally, the videowas shot with a compact digital camera. The infinite options of copy that technology offers contrasts with the unique and original artwork of the masterpiece parodied.

I want to make a video
The democratization of video art, through cheaper and faster production and wider dissemination through sites like YouTube, has fostered new and liberatory approaches to video as medium. Everyone wants to make videos these days. The artists in this screening, Chie Yamayoshi, Pierrre St Jacques, Ellen Lake, Christopher Bruchansky, Elizabeth Riley, and Marlo Bodzick, stand out by creating new video work that is driven by dynamic narrative and stunning visual content.

• 20 h • 8 pm Urban Research curated by Klaus W. Eisenlohr

heterotopias, places, and the psychology of construction

Barbara Rosenthal,
I Have A New York Accent, USA, 1988, 0:01:23
Ross Lipman,
Clean MRF / Dirty MRF, USA, 2008, 0:06:00
Barbara Rosenthal,
Society, USA, 1990; remastered 2009, 0:05:37
Charlotte Ginsborg,
The Mirroring Cure, UK, 2006, 0:27:00
Oliver Whitehead,
H2O, Finland, 2008, 0:04:00
Adam Kossoff,
Goldfinger's Playground, UK, 2008, 0:04:45
Claire Hope,
Your task will fail to be realised (I'll do what I can), UK, 2005, 0:08:35
Henry Gwiazda,
on the roof, USA, 2008, 0:04:16
Julie Meyer,
Ricochet, France, 2008, 0:01:36
Andrew Eyman,
Streetymades —Paris, USA, 2001, 0:03:27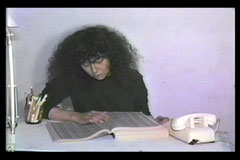 Barbara Rosenthal, Society

If looked at close-up, contemporary (modern) urban place seems both all too familiar and yet alienating. Introducing the human body into the film set may dismantle the spectacle of representational space, its gloss and power; it may even more than scratch the surface. Another theme of this program may be the artists' opposition to "immersive" qualities, the cinematic illusion of mainstream cinema and popular visual games.

• 22 h • 10 pm Beobachtung compiled by Directors Lounge

observation

Heiko Daxl DE Der Aufschwung kommt 5 min 7 s 2004-2009
Ingeborg Fuelepp DE Immer nach Norden 4 min 14 s 2008
Monika Rechsteiner CH Tawisuplea 38 min 2007
Philip Wennig DE Discusion 7 min 04 s 2008
Lucia Nimcova SK Exercise 5 min 54 s 2007
Alex Markov & Nick Teplov RU Two Highways 26 min 2008


• 24 h • 12 pm Live


Babel Embassy: Ethnotronical Dadawave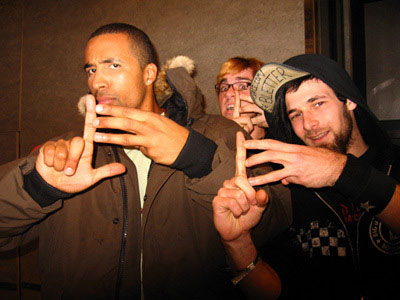 Babel Embassy on ms

• dance all night

Dance Lounge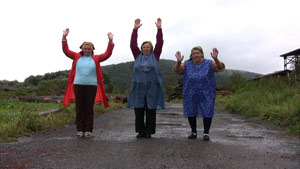 Lucia Nimcova Exercise
Ein ganz heisser Tip für alle, die mal was Anderes hören wollen. babel embassy spielt "ethnotronical dadawave" look22