• So sun 08 02
•18 h 00 • 6 pmUrban Research curated by Klaus W. Eisenlohr

The Future is Elsewhere?

Artists: Jeffrey Skoller, Jeremy Beaudry, Daniela Kostova & Olivia Robinson, Mick Skolnick and Samantha Crui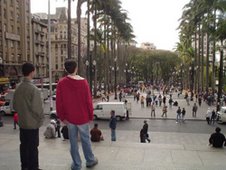 In the beginning of 2008, video records were done for the first time in the same day in Buenos Aires, Lima, Manila, Santiago e São Paulo. They were exchanged by FTP or by mailing, depending of the speed internet connection of each collaborator.
Samantha Crui
• 20 h • 8 pm A Special Presentation by Noel Lawrence

Underworld Cinema: The Life and Work of J.X. Williams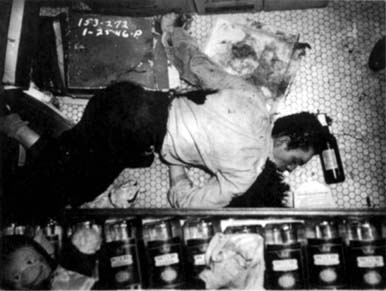 • between the screenings Rue Lascar live music
The music they play draws on the styles of music popular in the 1930ís and 40ís on both sides of the Atlantic: swing and Cajun from America and musette and manouche (gypsy swing) from Europe, particularly France.



J.X. Williams: Wrapped in an Enigma
If the filmmaker J. X. Williams didn't exist, someone would have had to invent him..
An exploitation filmmaker with a storied past, Williams is credited as director of the 1965 documentary "Peep Show" - a kind of spiritual vortex of sub rosa Americana surrounding the Kennedy assassination. After supposedly being suppressed for decades, it was recently shown at the Anthology Film Archives in New York, the Film Forum in Los Angeles and a handful of other museum, gallery and festival settings throughout the United States and Europe…
Shot in stark black-and-white and augmented with copious archival film, "Peep Show" tells a tangled tale of a rigged 1960 election, secret C.I.A. training camps in the Florida outback, sex stings in Mafia hotels and a little-known Mob plot to addict Frank Sinatra to heroin.
Noel Lawrence, who offers his title as curator of the J. X. Williams Archive in San Francisco serves as a kind of one-man advocate for Williams. According to Mr. Lawrence's spiel, Williams's résumé reads as a RKO mail-room flunky, closet Communist, abortive House Un-American Activities Committee witness, Mafia gofer, pioneer of mobbed-up stag loops, ghostwriter of some of the blacklist era's greatest films and incidental avatar of experimental cinema. Williams, as the story goes, has spent the last quarter-century in Zurich in self-imposed exile, leaving Mr. Lawrence to serve as a Robert Maheu figure to his shadowy late-stage Howard Hughes. source NY Times

Underworld Cinema: The Life and Work of J.X. Williams
A 90-minute film and presentation on the "lost" works of legendary cult film director J.X. Williams, by Noel Lawrence with Q&A to follow.
• 22 h • 10 pm Science and Poetry curated by Directors Lounge

part 1 Science
Robert Seidel Grau 10 min 2008
Zbigniew Okisuta PL Mesoglea 4 min 50 s 2003
Joanna Hoffmann PL Secret Life 11 min 3 s 2008

part 2 Poetry
Abbas Safari IR Tomorrow 1 min 53 s 2008
Silke Witzsch DE On Transition 6 min 45 s 2008
André Chi Sing Yuen and Frank Schablewski DE Ledahaut 7min 26 s 2007
Caecilia Tripp US The Making Of Americans 18 min 42 s 2008
Ismail Bahri TN/FR Resonances 7 min 16 s 2008
Kika Nicolela FR Passenger 4 min 46 s 2007
Guilherme Marcondes BR TYGER 4min 30 s 2006
George Drivas GR The Decision 5 min 47 s 2008 German Premiere

in part compiled with the help of Rattapallax



• between and after the screenings Rue Lascar live music




Swing, Blues & Chansons
Matt DeHarp: Guitar, vocals
Boris Kontorowski: Double-bass
Stephen Brandon: lead guitar




The Making of Americans. A hip-hop rendition of Gertrude Stein's poems by DJ Spooky, Jean Grae and filmmaker Caecilia Tripp.