• Di tues 10 02
• 18 h 30 • 6:30 pmUrban Research curated by Klaus W. Eisenlohr

Community And the Street

Artists: Cordula Gdaniec and Julia Ovchinnikova, Jeremy Xido, Pilar Ortiz and Paola Velásquez , Aline Helmcke, Simon Tarr and Paul Lloyd Sargent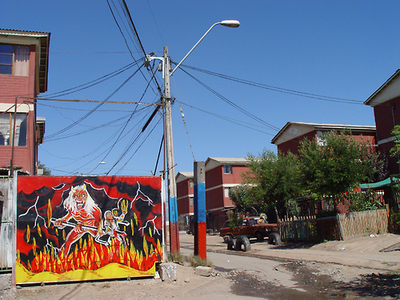 Mutación Block by Pilar Ortiz and Paola Velásquez (pictured) takes place in a public housing project along the Southern periphery of Santiago, Chile. In recent years, residents have started building improvised, illegal additions to their existing "block" apartments. This phenomenon has been a response to crowded living conditions and the inflexibility of the original structure, which is repeated over and over throughout housing projects in Chile. These modifications have impacted family life, strained community relations, and overwhelmed local authorities. In this documentary, Pilar Ortiz and Paola Velásquez give voice to the residents and shed light on the living conditions in these projects.
• 20 h • 8 pmpoetry and film curated by Thomas Zandegiacomo de Bel

Highlights from the ZEBRA Poetry Film Festival

Taatske Pieterson NL One Person Lucy
Katrin Bowen CA Financially Strapped
Carolin Sascha Cogez DK The Present
The Maw Naing MM Again and Again
Jon Dunleavy GB The Technical Hitch
Priit Tender EE Taimne Director
Dikran Janus Kadagian US Standard Oil
Raphael Chevenement FR Une Lecon particuliere
Cristobal Leon Dooner CL Lucia
Juan Delcan US The Dead




Katrin Bowen CA Financially Strapped

Unterschiede finanzieller Möglichkeiten von Männern und Frauen bringen Probleme mit sich.

• 22 h • 10 pmWALDEN KUNSTAUSSTELLUNGEN presents

Stefan Hoderlein curated by Bernd Boehlendorf

Bernd Boehlendorf gives an introduction into the work of Duesseldorf based artist Stefan Hoderlein
with excerpts from
»Zauber der Operette - Höre das Klatschen einer einzelnen Hand « (1984-1986),
»Old School Ravers / Mayday Posse « (1994)
and his latest work
» A Walk in a Park « (2008)
live accompanied by different DJs




» A Walk in a Park « (2008)