• Di tues 12 02
• 18 h 30 • 6:30 pm Dokus documentaries

Oral History


• Daniela Hendel & Ivo Smolak DE Mit 17 nach Sibirien16 min, DV, 2007
• Martin van den Oever NL Van de stobbe en de bossen
(The peat stack and the woodlands) 34 min, DV, 2005

In attendance of Daniela Hendel and Martin van den Oever


Mit 17 nach Sibirien behandelt das Schicksal von Frauen und Mädchen aus den ehemaligen ostdeutschen Provinzen Ostpreußen, Schlesien, Pommern und Ostbrandenburg, die nach Ende des Zweiten Weltkriegs zur Zwangsarbeit in die UdSSR deportiert wurden. Zeitzeuginnen, die 1945 zur Strafarbeit in die Sowjetunion deportiert wurden, berichten. Ausschnitt (QT) mehr more
Van de stobbe en de bossen (The peat stack and the woodlands)
Witnesses recall the story of a group of Jews that find shelter in a peat stack and later in the woodlands nearby a small village in the Netherlands.

• 20 h • 8 pmUrban Research curated by Klaus W. Eisenlohr

Oberflaechen des Staedtischen

• Jens Luestraeten DE Fifteen Minutes of Fame 15 min, DV, 2007
• Vera Brunner-Sung US The Garden City 13 min 30s, DV/ 16mm, 2007
• Astrid Menze DE Daily 1 min , DV, 2007
• Eric Fleischauer& Jesse McLean US D R I F T Promontory Point
5 min 17s, DV, 2007
• Ben Russell US B/W Trypps #3 12 min , DV, 2007
• Jani Ruscica FI Beatbox 8 min 40s , DV, 2007
• Deborah Philips DE 71 7 min 30s, 2005
• Tibor Guly·s, Balazs Irimias HU DMobility 5 min , DV, 2007

73 min

Surfaces and Texture — Oberflächen des Städtischen
In German language, surface and superficiality are almost the same word. Still, reading surfaces is part of the urban experience. Traces, scars and injuries mark the textures. Structures, patterns and repetitions need to be read. For the external viewer, traffic and masses become as much part of the surface as individual gestures and clothing. In this program, the surfaces and textures of Bengalore, Chicago, New York and the suburbs of Las Vega are being read and reflected on. The textures shown on film and video in return become surfaces of projected perceptions and inner views.


• 22 h • 10 pmselected shorts compiled by Directors Lounge

Stories (?)


• Ron Longsdorf US Computer Lab 1 min, DV, 2005

• Ann Hirsch US I Love You, I Hate You; Emaciated 5 min 2s, DV, 2007

• André Ricardo BR Exequias 3 min 56s, DV, 2007

• Ross Lippman US Rhytm 06 8 min 20s, DV, 2006

• Markus Soukup aka Igor Hax DE n.a. ca 5 min, DV, n.a.

• Santiago Delappe BR The Watcher - Bem Vigiado 15 min, DV, 2007

• Angelica Chio MX I am Off To Mexico 2 min , DV, 2007

• Yoel Diaz Vasquez CU Crazy Love 3 min 19S, DV, 2003

44 min
poetry in motion


• Daniela Butsch DE Landschaft Schnell 36s, DV, 2007

• Sang Nam US Silent Scream 4 min 34s, silent, 2007

• Heiko Daxl & Ingeborg Fuelepp DE QX- Berlin Ostkreuz 4 min , 2007

• Allan Brown CA Uncle Cluck. 4 min 30s, 2007.

• Ingeborg Fuelepp DE Tuned Graphics 3 min 26s, 2007

• Miguel Machado PT The Long Overtone a cine poem in five parts
18min 25s, 2006

•Joanna Hoffmann PL Walls 5 min 30s , DV, 2007

40 min


Landschaft Schnell will be shown in world premiere on Thurs 7th

• 24 h • 12 pm Special Nadya Cazan: Actress and Fairy

NEM



Nadya Cazan as Lady Isabella in Ignotus

The bedazzling Nadya Cazan, member of Team Directors Lounge and acclaimed actress in three complete different films.

• Maja Borg SE Ottica Zero 8 min , 2007
• Max Bartoli IT Ignotus 15 min, 2006
• André WernerDE The Eyes Of Mankind 14 min, 2007

In attendance of Nadya Cazan

added by Nadya Cazan

• Fabiana Roscioli IT impossible love 6 min 16s


• dance all night

Dance Lounge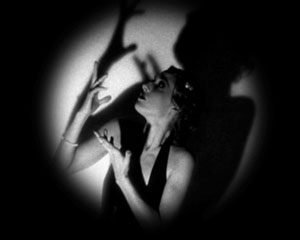 Nadya Cazan as Rose in The Eyes Of Mankind