• a summer evening with ... • In Persona screenings featuring selected artists and curators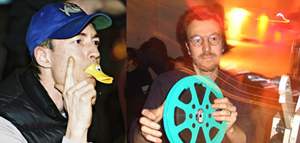 Telemach Wiesinger and Andreas Gogol
• Beginning in 2006, we invited artists and curators to present their work in person, thus giving a first hand look into their mind. Every guest is given "carte blanche" in which way they like to show their work. Often changing locations reflect the diversity of the invited artists. These nights are no longer limited to the hot season but we keep the name for this gentle touch of a Midsummer Night's Dream.


• previous summer evenings featured:
• Sheri Wills curated by Klaus W. Eisenlohr 21 September 2007 Z-Bar
Amazing musicality and intensity in color are the foremost impressions of Sheri Wills' films. At the same time they speak about the beauty and fragility of the microcosm that surrounds us, and in our daily life, barely catches our attention. more



• Felice Naomi Wonnenberg Cocoon and other Swan Songs 26 August 2007 Z-Bar
Felice Naomi Wonnenberg's video work is a unique, sometimes surrealist collage inspired by Jewish thought and political and gender issues. It combines in an intriguing manner Middle-Eastern reality with European cinematographic aesthtics more
• Oliver Whitehead films from 1967—2007 12 August 2007 Z-Bar

Oliver Whitehead from Helsinki, who recently showed his work in a retrospective at Cartes Flux Festival in Espoo/Helsinki, comes to Berlin to show his work. more
• Telemach Wiesinger (film) & Andreas Gogol (acoustic performance) at Baiz
august 24th 2006
Telemach Wiesinger decided to take a small reel of 16mm film on each of his trips around the world. In every country he carefully selected a location and his contributors (not to say performers!) and captured a scene of 2 minutes and 45 seconds each. Andreas Gogol joined Telemach Wiesinger in putting together their own journey based on the collected episodes and combining them in a new imaginary space
During screening, Andreas Gogol composes live on his instruments. He interacts with the film and makes the artists rich version of cinema visible. Each performance creates ann entirely new experience more
• Udo Rathke (screening) & micronaut (guitar/samples) at Kunsthaus Meinblau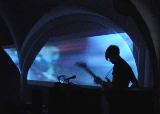 august 17th 2006

For several years, Udo Rathke has experimented with the compositional possibilities offered by the computer as a medium of painting with other materials.By using small fragments of pictures found on the net or else he creates ever changing paintings of magical light, now transformed, into a delicate succession of color.
Stefan Streck uses found audio pieces, next to his own guitar play, in a similiar way of layered composition to create absorbing collages of sound.
Both are intrigued by the diversity of microcosmic diversity.more
• Yoko Hata / GUP-py at Rote Loge august 10th 2006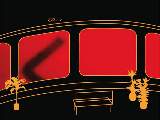 Yoko Hata, founder of GUP-py, presents her recent work on video at Rote Loge. In her videos, Yoko Hata combines animations, text and camera images with her poetical reflections on the world. more

• aE3 at Rote Loge august 3rd 2006

An evening, curated and compiled by french videoartist aE3. Next to his own work we will see shorts by fellow artists as well as rare historical footage from the earliest days of private filming. Marina Foxley, performer in many of his movies will be present. more
• Marina Foxley at Rote Loge july 27th 2006

This night consist of two seperated screenings, reflecting her role as a curator for chinese cinema as well as her work as a director and performer.
First Marina Foxley presents an "avant goût" of our forth-coming special on independent Chinese films.
The second part serves us three video-performances, each with different perspectives and choreographies of the nude body. Her own work, Still Life will be screened in world premiere more
• Tobias Schmuecking at Z Bar july 20th 2006

Tobias Schmuecking tells stories by using images. Space, place and encounters do not appear alien to us, but seem to be rather familiar from previous occasions, back then in dream time, or in a different film.
These everyday places, such as a caravan on a hill or a public pool, stay in my memory, like those places of my own blissful experiences.
Klaus W. Eisenlohr more
• Kim Collmer- forming motion at Rote Loge july 13th 2006

Forming Motion is a night of animation shorts collected from around the world. For this series, animation is depicted as both a connector of images, and as a reminder of the artificiality and tedious nature of its construction. Many artists in this program create a tension between the flow and the construct. Within their work there is a focus on texture, line, movement, light and rhythm and film's ability to contain life and energy. Based on the screening at Inner Spaces Gallery Poznan. more
• urban research presented by Klaus W. Eisenlohr at Rote Loge july 6th 2006

With the increased dynamic of urban development, more artists are concerned with urban space as a theme and issue. This selection shows a range of new short experimental and documentary work of international artists. Based on the screening at Inner Spaces Gallery Poznan. more
• Figures of Motion part 2 coup d'oeil at zapp live june 29th 2006

Video art that focuses on an instant, a sudden glimpse. Selected works from this years Directors Lounge 2006 as well as classic shorts.
Based on the concept of our recent screening at castle Plueschow
Compiled and presented by André Werner. more (german)
• Figures of Motion part 1 the painted tape at zapp live june 22th 2006

A short ride through the history of experimental cinema from the early years through fluxus into the 21 century. Compiled and presented by André Werner.
Based on our recent screening at castle Plueschow
more (german)
• THE PSYCHOACOUSTIC GEOGRAPHERS at Z Bar june 15th 2006

Emotional exiles from the Land of Opportunity,
experimental filmmakers Ben Russell and Jonathan Schwartz come to Europe more
related
• a summer evening 2006 Impressions summer 2006 on richfilm
• back to projects overview
old pages may contain broken links