Directors Lounge tv
is build for speed.
A DSL-connection is highly recommended, Flash Player is required
Give the video a moment to preload for best performance
We are still testing, please excuse temporary downtimes.
Videos on this page reflect our current screenings.
More videos will be added to the archive.
Welcome to Directors Lounge tv,
the place to watch videos and shortfilms presented at the Directors Lounge.
now playing:

assorted videos from INBETWEEN Stereotypical readability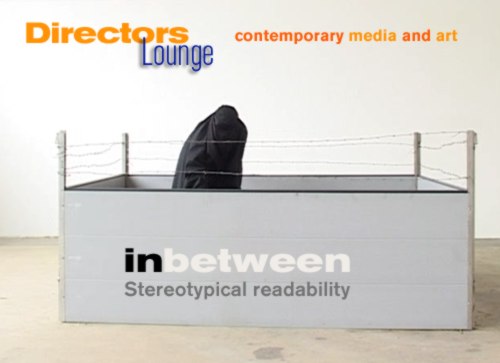 in alpabetical order




placebo
Katz
Jeremy Jes" Benstock GB The Holocaust Tourist 9 min, DV, 2005
Nezaket Ekici TR Mia Vita, Mia Amata 3 min 19 s, DV, 2005
Tanja Puustelli FI Milking The Cow loop, DV, 2005
Andreas Rost D Solo für Ramallah 5 min, DV, 2005
Yuri Shapochka UA Game Shop 4 min, DV, 2005
André Werner D Mannaka No Ie (The House In The Middle) 7 min 50s, 2006
artists presented with other videos
Katherine McInnis US Open 3 min, DV, 2005
Provmyza RU Alternate Play Station 11 min 45 s, DV, 2004
Tanja Puustelli FI Self 3 min, DV, 2005
artists presented in the exhibition
Silke Witzsch D Flood 9 min , DV, 2005
also playing:

CANDELA! Cuban side-tracks independent video from Cuba, curated by Kristin Bergaust



the expanded eye - das verlaengerte Auge
screened at the 2. Berliner Kunstsalon
October 4th Tuesday 01pm, 2005
read more >>

staff picks to give you an idea

selected videos sorted by screenings and exhibitions

full list of videos currently on air
The ten minute mix of live footage and animation in Jes's inimitable and accomplished style, was shot in Auschwitz and in Krakow
Not another sad film about the Holocaust, but a wry animated documentary about dark tourism and how it distorts history. Visitors and locals talk about kitsch Judaica in Krakow and hot-dogs at Auschwitz. What is missing from the tourist experience? And what happened to "Never Again"?

"The crying swallow flies at dawn"
Pure japanese poetry,
entirely filmed in the deserts of Nevada.
Japanese with english subtitles.