• DL 2009 our next show magazine blog specials location map
Dagie Brundert | 23rd April|Scala 9pm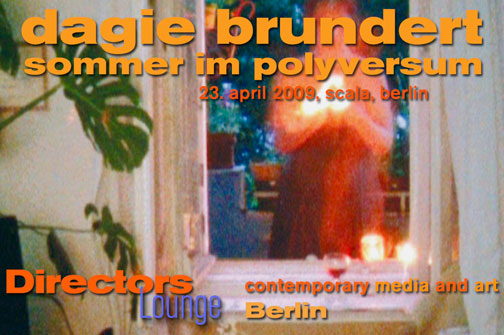 Super-8 films and video

Personal show by filmmaker Dagie Brundert,experimental film and video,
curated by Klaus W. Eisenlohr;
with later songs of singer-songwriter Jo Knox
Since her first encounter with filmmaking back at Art School ­ she first studied design in Krefeld, then film at Hochschule der Künste Berlin (now University of the Arts), at the very first experimental film class in Berlin led by Prof. W. Ramsbott ­ Dagie Brundert loves Super-8 and has worked almost exclusively with it. The small film gauge is still her preferred recording material, although nowadays, she is editing and post-producing digitally. "It was always the small things I was interested in, and which I wanted to manipulate ­ the handy materials"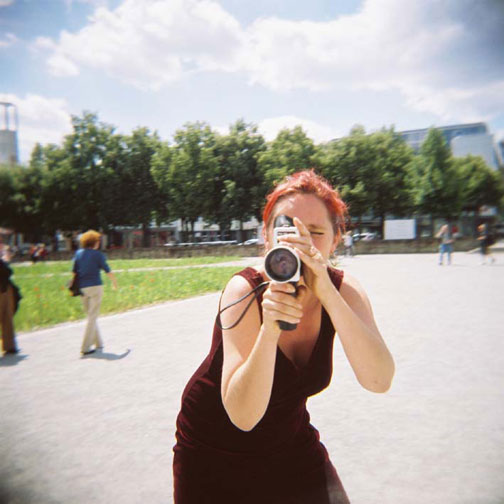 It was the group FBI (Freie Berliner Ischen ­ Free Berlin Isches) with whom Dagie Brundert first reached a larger audience in the 90's. The group (Ramona Welsh, Pamela Homann and Dagie Brundert) engaged their audience with a wild mixture of humour, boldness and female provocation in their films and as part of the performances, while they included films of friends and colleagues, a number of which was produced just-in-time for the respective events. "Trash film" was the hype in the Berlin Off-Scene back at that time. Punk-like or wild collages do not describe well, what in a nutshell could best be called "shrill".

In present time, Dagie Brundert is presenting herself in rather bright, cheerful and philosophical ways, with a touch of irony that never feels bitter. "I am a hippie" she told me, and indeed, her films remind of the free spirited attitude of the Beatniks, who blended Buddha, Anarchism and an adolescent reach for freedom with the contemplation of everyday life. Another reference may be the "kitchen-philosophy" of Jonas Mekas' films. Possibly one could say, the influences of early American Avantgarde become more obvious in the filmmaker's more recent work.

Many of Dagie's film sets are located in her closest environment: the balcony becomes the "tour boat" to foreign places, and the bicycle the vehicle for visual explorations. The kitchen, the neighbourhood in Kreuzberg and meetings with friends trigger film-events. These are always a fusion of found situations with the creation of small film settings. "I am going around with the camera, and, at one moment, it just happensŠ" Hence, important are the small things found or happening. With her filmmaker's perspective and the micro-stories she is creating within, they become related to Everything and All, the "universe". It seems ironic if the bicycle heals itself on Christmas Eve, if we "follow the sun", which is a fluffy toy hanging from a nylon string in front of the camera, or if the filmmaker is setting a scene with three people carrying candles on their heads on New Year's Eve in order to celebrate ancient rituals of the Nordic people. With all playfulness and irony however, there always is some serious thought behind the scenes, some philosophical reflections, which would possibly be impossible to express through rational reasoning. And of course ­ summer is playing a major role. It is a main character in Dagie's films. For her, it can't be warm enough in summer. Thus in February already, summer has to be evoked with rituals and films.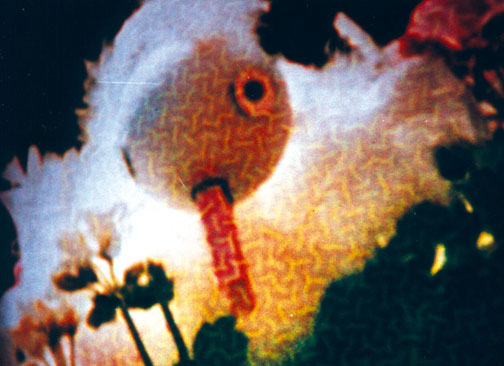 For these and other reasons, her recent stay in L.A. has played an important role for her latest work: the city of colours and bright light. In 2008, Dagie Brundert received a grant, which combined the opportunity to free art work and community oriented workshops. Since then, the artist has given workshops in different cities, sometimes in conjunction with the numerous festivals that show her films, and where she not only teaches the hands-on to super-8 techniques but her philosophy,
the wabi-sabi of super-8.

"Ring the bells that still can ring
Forget your perfect offering
There's a crack in everything
That's how the light gets in."

(Leonard Cohen, "Anthem")

After the screening, a special treat for the audience will follow:
Jo Knox (Berlin), who contributed her song "Meshell" to Dagie's brand new film "704" about the Los Angeles bus no. 704, will unpack her guitar, play, and sing her songs to everybody's enjoyment.
program starts at 9 pm
doors open 8 pm
See you at the Scala, Friedrich Str. 112 A, 1st floor
• Directors Lounge an introduction