Directors Lounge präsentiert:a summer evening with ...
Eine Reihe spezieller screenings immer Donnerstags
in Zusammenarbeit mit zapp live und Z Bar


mehr



15. Juni 21 h THE PSYCHOACOUSTIC GEOGRAPHERS in der Z Bar
Emotional exiles from the Land of Opportunity - Gefühlsmäßige Exilanten aus dem Land der unbegrenzten Möglichkeiten, Ben Russell and Jonathan Schwartz sind auf Europa-Tour!
In ihrem Handgepäck bringen sie mit: 16mm Filme, vokale Soundeffekte und optische Soundtracks. Als gleichgesinnten Kino-Kartographen schicken sie das Publikum auf sono-imaginäre Entdeckungsreisen mit psychedelischen Bildern, kollagierten Animationen, pseudo-ethnographischen Maskenzeremonien und Lochkamera-Filmaufnahmen. Die beiden furchtlosen Abenteurer entwerfen eine Neue Welt in der das Sehen in Wellen reist und wo der Ton wie nächtliche Explosionen pulsiert.
Ben Russell wird persönlich einführen und steht zu Frage und Antwort bereit.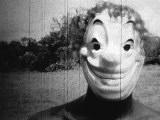 Daumë (7:00, 16mm, 2000)*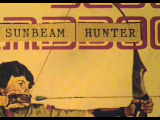 SunbeamHunter (3:00, 16mm,2006)**
"One of the strangest films I have ever seen, it´s characters come and go as if they are "primitives" posing for the camera, either obeying or fighting an ethnographers controlling eye." Fred Camper
"For the prevention of violence, check the manual, it might die in the seventies, or I was wondering if sincerity could battle irony"
Full program:
Black and White Trypps Number One (7:00,16mm, silent, 2005)*
The Red and Blue Gods (8:00, 16mm, livesound, 2005)*
Pre-Hibernation News (6:00, 16mm, 2005)**
SunbeamHunter (3:00, 16mm, 2006)**
Daumë (7:00, 16mm, 2000)*
Den of Tigers(19:00, 16mm, 2002)**
Terra Incognita (10:00, 16mm, 2002)*
For Them Ending (3:00, 16mm, 2005)**
Black and White Trypps Number Two(9:30, 16mm, silent, 2006)*
(*by Ben Russell, **by Jonathan Schwartz)
detailed description of all movies here
related links:Magic Lantern Cinema and The Dime Show

Directors Lounge 2006 is made possible in part by Cafe Dix in der Berlinischen Galerie


Special screenings in collaboration with AV-ARRKI microcinema mochafilm club NoMasala
our herores: placebo FX, Fragments, Berliner Licht & Silber, Cinema Desaster, SIEBENGRUENDE,
monitoranimation.de, Kunstsalon Wilde, Gans, Joppel-Bürkle IT, IF Museum/Inner Spaces, Fanhall Studio



Directors Lounge 2006
is the brainchild of Designhof e.V., A&O-gallery and the Kunstfoerderverein Treptow e.V